Academia ERP – Automated Examination Module
Examination is a fundamental part of an academic process of any institution, and when it comes to the university driven examination process, this includes a lot of workload like integrating the time table of various programs running by different affiliated colleges, managing seating arrangement of thousands of students it indeed is a tedious and critical task.
At present in many universities, invigilator allotment for exam duty as in charge is done manually and also tracking of previous exams and their supervisors is a tough task. The only option is an excel spreadsheet by which allocation data is captured.
The basic activities like sitting arrangements roll no. allotment, invigilation duties, and question paper set wise distribution according to predefined exam strategy demands a lot of time and manpower. Thus, Academia ERP – Examination Module – an automated system would resolve above defined problem in just few clicks. Academia ERP is an automated system can be used through cloud computing facilitates all affiliated colleges to provide their stakeholder's data and get the reports of allotment. With Academia ERP, universities also can oversee the details of allotment with every institute.
Academia ERP with Exam Management Solution includes wide range of activities like exam time table arrangement to create mark sheets in a customized format as per the need of the universities. It facilitates whole examination procedures just by following few simple steps like Timetable preparations, Hall Ticket creation, Question Papers creation, Grades and Marks entries and mark sheet preparations. Academia ERP is admired by various educational institutions and proved as an aid for faculties to conduct flawless examinations with minimized efforts and speeds up the results declaration process.
Academia Examination and Marksheet management module consist of following facilities: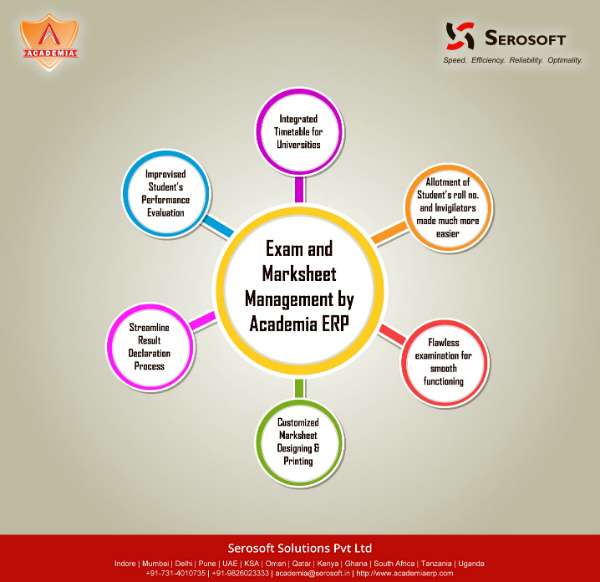 Pre-Examinations Preparation
Exam Notifications
Exam Courses and Student Registration
Exam Schedule
Student Attendance Management
Invigilation Duties
Student performance and Mark Entries
Grade, Percentage, GPA, CGPA management
Result Preparations
Reports for Result Analysis
Overall Reports for Exam and Marksheet Management
Examination Management module of Academia ERP covers features like class wise exam, different marking scheme definitions, creation of type of exam (such as viva, practical, theoretical or their combination), mark sheet preparations and generation of Hall ticket, CGPA & GPA reports, mark sheet printing, faculty grading & feedbacks, student wise evaluation report and CCE report. Academia ERP Campus management software: Examination module provides the support to reduce the manpower and time involved within the generation of marks and mark entry processes.