ERP: A Solution to Complex Issues in Institute Management
Enterprise Resource Planning or ERP is becoming the key to success for modern educational institutions, thus helping the cores of institutions. An Effective ERP can help institutions with complete education management and control in all operations and activities regardless of periodicity. A feature-rich ERP system helps solve complex issues in any operation like admission, fee, online classes, assessments, final exams, grading, certifications, and more. The right ERP software helps ease, store, and retrieve all the necessary information of the institute in the quickest possible time. 
Common Issues for Which Use of an ERP can become beneficial: Difficulties in managing academic & administrative processes:
An educational institution includes various operations that are associated with all the stakeholders like
Inquiry & admission 

Fee & payment 

Program & course 

Examination

Result announcement 
All of these tasks involve a long chain of tasks when performed manually or with digitized processes. An ERP can align them efficiently by removing all errors, chaos, and confusion among stakeholders. 
An ERP bridges the communication gap and brings efficiency to all tasks making all the processes more accessible and more convenient.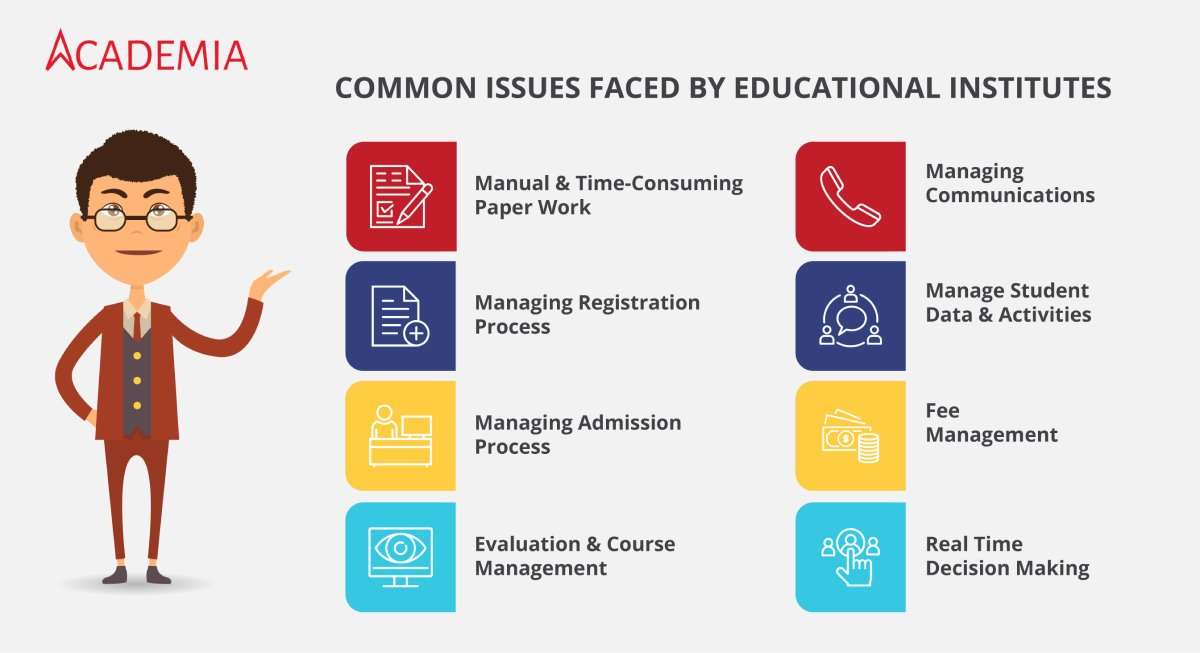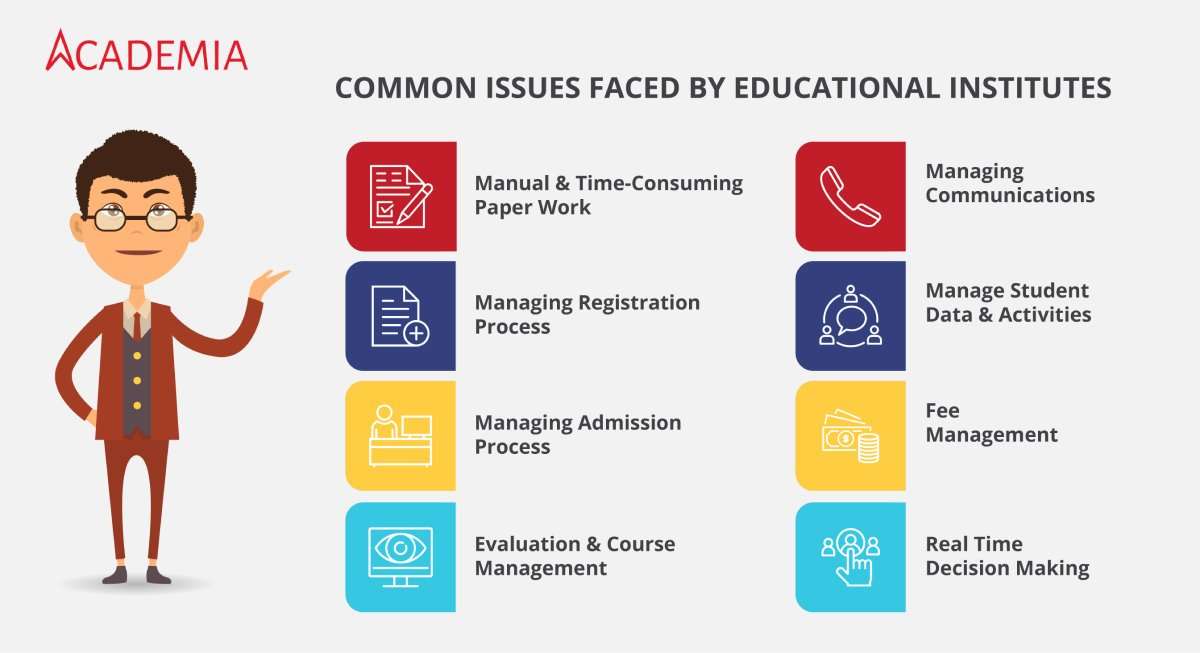 1. Improper data management 
Institutions are involved with a huge amount of data, manual or digitized with tools like MS sheets, and MS Word, and the scattered data in multiple formats always creates issues for stakeholders. 
An ERP software provides access to any data that can be granted to any number of users on multiple campuses according to the authorities. It helps in real-time data tracking and recording to deliver services efficiently and on time. 
2. Excessive paperwork
Manual operations in an institution include the bulk of documents, files, and papers that create each process lengthy, time taking, and pending approvals. It also creates risks of damage, theft, and malfunctioning. 
An efficient ERP software connects all the departments and campuses through a single platform. It empowers all the stakeholders with the authority to keep any data and information on the portal leading to significant cost savings in paperwork. 
3. Inefficient decision-making
An education entity involves multiple authorities and decentralized decision-making creating inefficiencies restricting growth and opportunities. 
An ERP involves complete institute management and a centralized platform that avails efficient decision-making for all the authorities in an informed manner. 
Making absolute and unbiased decisions in an institution increases productivity, improves performance, and drives growth.
4. Over-costing in operational tasks 
An educational institution involves many tasks associated with students, faculty members, administrators, admins, other staff, and more. It involves huge costs with slow growth in ROI. 
An ERP automates and streamlines all the processes, reducing manual intervention in any single activity of the institute. 
This also helps in reducing repetitions of activities targeting students' welfare, productivity, and growth in all prospects.
How does Academia ERP help in resolving above mentioned issues?
Being a helping hand of more than 300+ institutions across the world, Academia ERP comprises complete institutional management leading to the digital transformation of the institution. It automates the entire lifecycle of students, faculty, and administration and keeps insights into metrics and analytics. 
It empowers all the stakeholders in all whereabouts of the institution like admissions, fees, examinations, and a lot more targeting ultimate efficiency and effectiveness in the institution. 
This is not yet completed, there are a lot more features that Academia ERP provides in solving major issues and complexities in the institution, request your demo now to learn more.