Significance of Pedagogy in Education and Learning Advancements
Reading Time:
3
minutes
Exploring the Dynamics of Pedagogy: A Catalyst for Rapid Growth in Education
In a swiftly evolving education landscape, the importance of pedagogy cannot be overstated. As the education sector undergoes continuous enhancement each year, educators play a pivotal role in understanding and leveraging pedagogy to foster rapid growth within their institutions. But what exactly is pedagogy in education, and how does it contribute to institutional development? This discussion delves into the crucial role of pedagogy in shaping education and learning methodologies.
Deciphering Pedagogy in Education: Nurturing Learning Through Theory and Practice
Pedagogy in education embodies the intricate relationship between the theory and practice of teaching, influencing the culture and techniques of learning. It serves as the linchpin for creating and refining learning methods, skills, and attitudes among students. The primary goal of pedagogy is to empower learners with a profound understanding of subjects, equipping them to apply their knowledge in real-life situations beyond the confines of the classroom.
How Pedagogy can help faculty improve teaching?
Looking upon teaching in pedagogy, plays a vital role in advanced education delivery. It can be referred to as an understanding of how the students can learn. The teachers are also focused on presenting the syllabus to the students in a way that is necessary to the needs of students. Pedagogy also demands the right way of interaction and communication between the faculty and students along with creating a necessary impact on the students' minds. 
Faculty members who teach advanced education to students can focus on teaching & learning pedagogy. For them, it is an approach that has optimized the larger responsibilities of faculty giving correct information to students. The faculty members get a clear understanding of how the students are doing concerning their learning and can also focus on the effective target language.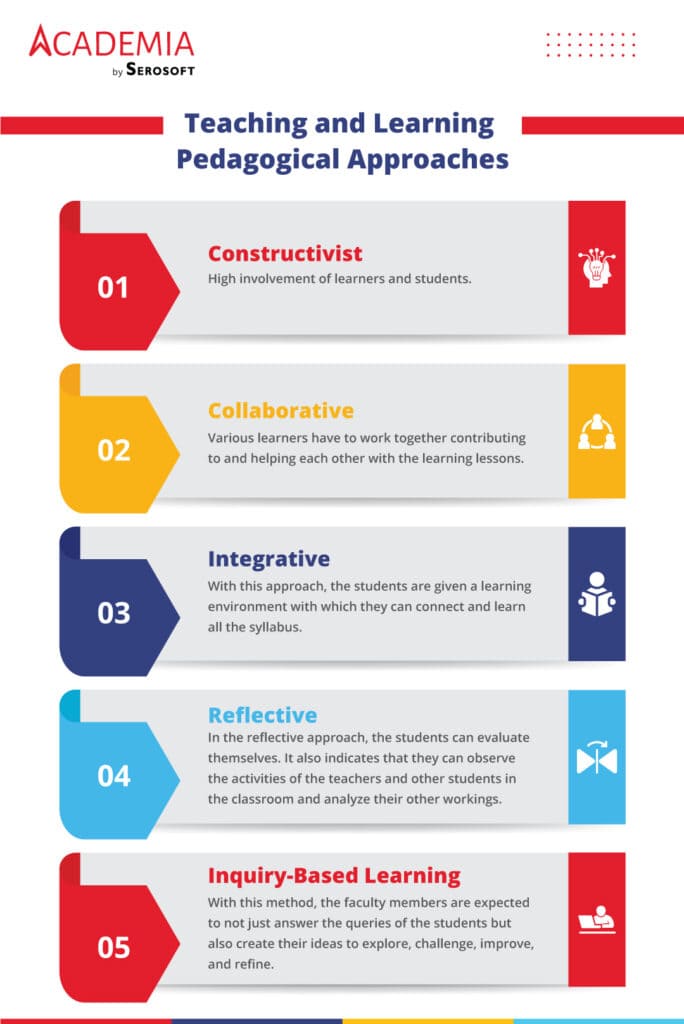 Importance of pedagogy in education:
Improves Quality of teaching and learning 
If implemented properly and effectively, pedagogy can help improve classroom learning and quality of teaching to show a drastic improvement. It will also help students resulting in improving their overall performance and learning, also allowing them to learn thoroughly and enhancing learning outcomes. 
Boosts cooperative learning atmosphere 
The concept of pedagogy in education helps in encouraging students to work together towards learning and completing all operations. This also helps in improving their perception by understanding and taking views from other students, along with adapting to the cooperative learning environment making education better and growing. 
Removes repetitive and monotonous learning 
Pedagogy helps students to develop objectives along with self-grooming. It also allows educational institutes to move beyond the traditional and old methods of memorization and comprehension of teaching and learning. It provides complex processes of learning through which students' progress can be analyzed and evaluated. Along with all these, it also provides students and faculty with a different form of learning and teaching. 
Allows students to learn effectively 
A proper and well-thought plan for pedagogy can help students to grasp education in various ways. It creates the learning abilities of different students. Students are also allowed to take their preferred ways of learning and stick to them. 
With all this, it provides students with a better understanding of the subject, which can eventually improve all the skills, learning, and development outcomes. 
Communication is also one of the vital factors that make students and faculty relationships better. Institutions opting for the concept of pedagogy can help the faculty understand the student in a better way, triggering them to focus on the student's weaknesses and guide them accordingly.
How Academia can help improve education delivery in institutions?
Academia ERP/SIS is a robust, feature-rich, analytics-equipped, user-friendly platform, built on a cutting-edge and flexible architecture. It enables educational institutions to automate & streamline their functions/processes for both learning and administration. 
In elevating education delivery within institutions, Academia ERP/SIS stands as a robust, feature-rich, and analytics-driven platform with a user-friendly interface, all structured on a cutting-edge and adaptable architecture. This platform empowers educational institutions to seamlessly automate and streamline both their learning and administrative processes. By embracing pedagogy, Academia becomes a catalyst for enhancing overall education delivery. 
Our software not only facilitates the efficient management of academic and administrative operations but also fosters an optimal environment for faculty and students to learn, communicate, and connect effectively. As we conclude, this article has provided valuable insights into the pivotal role and significance of pedagogy in education. Should you have further inquiries or suggestions, our dedicated team is ready to assist you. 
Feel free to request a demo and explore the transformative capabilities of Academia.