4 Benefits of Student Record Management System Institutions Must Know
Automation in Education
,
Campus Management Software
,
Cloud ERP
,
College ERP
,
College Management Software
,
Education
,
Education ERP
,
Education ERP software
,
Education Management System
,
Educational ERP
,
ERP Solution
,
Mobile ERP
,
School Management Software
,
Student Information System
,
Student Management Software
,
Training Management System
,
University Management Software
Reading Time:
3
minutes
What is Student Record Management and What are its Benefits
The first key advantage of a student record management system is that an educational institution can keep proper track of students' data. This includes areas such as fee records, examination records of the students, hostel records, transport records, offered by the institutes.
Being an admin user you can access this data and more, by using a unique ID number of the student. Students can also check the data whenever they want on their portal and mobile app. 
The student record management system is a by-product of the student information system which manages the complete student life cycle from admission to alumni management.
This software allows your staff to go paperless and reduces manual work. There is no need to type in all the data of the students as well as others on the tons of excel sheets for long hours! 
You can now organize it in a format that is simple and accessible to one and all. This means that you will be able to access data within seconds, something that would not have been possible without such a system in place.
Here are the top benefits of using student record management in your educational institution:
With the help of a student data management system, it becomes super convenient to brings better administration to your institutions. As it covers all the departments and connects them in a single platform. As mentioned above it reduces the manual task of data entering as it fetches up the data from one entry to another and in the advanced student information system it can generate multiple reports with those data, and that too without any efforts. It simplifies the overall administrative processes and brings digitally forward management.
Easy Time-table Management
You are in better control when it comes to operational aspects with the implementation of a student information system. One such operation is managing the timetables for your institute. Usually, this is one job that takes up a lot of time that could have been better invested in other better activities. But, with its timetable management feature, you can schedule classes, meetings, assigned teachers for classes, substitute teachers, ad-hoc classes, and other work automatically, without any problem whatsoever.
Student-centric Ecosystem
One of the key benefits of these systems is that the user can track each and everything done by your students. This includes performance in extracurricular activities, sports, and others. In this age, where there is such great emphasis on helping students realize their true potential in life instead of creating robots, this is a great technology to have.
These days is data access by one and all and that too with a great degree of convenience is very important to run a successful institution.
Apart from students and the management teams, this system can also be accessed by people such as teachers and parents. In fact, with the auto-generated credentials (user ID and password) with privilege control, all the stakeholders of your institute can access these systems as well.
With the help of these systems, teachers can manage their classes better, track the student attendance and assignments, keep a track of any other tasks that they may have allotted to the specific students.
Futuristic student record management system is inbuilt with robust dashboards & analytics, which makes it easier for you to track what work completed and by whom, and what's pending. The best thing is you get all the necessary information on a single screen, which helps you get a broader picture of overall data.
These systems also work in such an intuitive way that all your important work is properly highlighted. This improves your productivity much better than what you could have imagined. This also means that you are able to grow as an organization with very little effort.
Conclusion
When you implement student database management software it allows you to reduce your expenses and increase your efficiency at the same time. There are so many benefits of being able to maintain various services at a really low cost, reducing the number of people employed to manage the institute, automating the entire operation of administration, etc. This means that as an educational institution you get a lot of freedom from manual work.
Are you looking for the same freedom from mundane work and want to focus on creating a better institution, then Academia is the solution you need. Discover the features with a free demo of Academia ERP.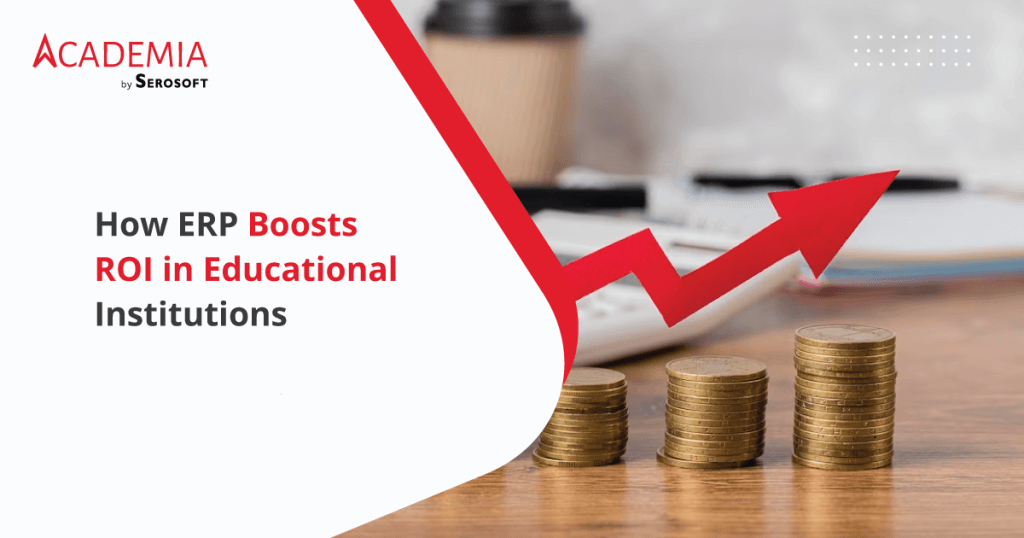 Maximizing ROI in Education: How ERP Boosts ROI in Educational Institutions
Reading Time: 3 minutes " Given a 10 percent chance of 100 percent payoff, you should take that chance every time"- Jeff Bezos, and what if there is a 100 percent chance of 200 percent payoff, one should just rush to grab the opportunity, […]