Ensure student data security through college ERP implementation
Reading Time:
3
minutes
We live in a digital age where data decides how our business functions and operates. A decade ago, nobody would believe that the bits and bytes stored in the database is something more valuable than gold. I am sure, data and its usability in the education sector too must have reached your ears. And also, the prudent apprehensions in the market about keeping the data secure. 
As much as people want to use data to improve their decision-making, people do dread cyber attacks. Data breaches are a common scenario. You must build your institute on a robust digital infrastructure that provides you protection against all types of cybercrimes. 
Importance of Data Security in Colleges
As much as data is important for educational institutes, it is one of the most valuable assets for your organization. Having said that, you need to protect it and ensure your students are safe from any cybercrime attack. Any vulnerabilities in data management can harm your reputation and may result in a decline in the student admission ratio. Also, students and parents nowadays, especially after online learning people have become more aware of cybercrime and do take these things seriously. 
To avoid any such situation, you must have a robust Student Information System in place which allows you to protect the data across all the colleges of the university. These are advanced college ERP solutions that provide you host of operational capabilities along with automation in the processes to reduce the workload on your employees. Security, easier data management, and ease of operations this is one solutions to all your problems. 
How far the data can be misused? 
A student enrolled at your college is required to give away personal, financial, and social information to you. You store it in your database be it cloud or on-premise. Any mismanagement or malfunction in security can lead to data leakage. 
Cybercriminals may use these gaps in the security system to access the academic information of the students or may copy the electronic copies of the card or financial information of students and their parents, or may also send out phishing links to their personal emails causing them to fall prey to their ill intentions. 
How does Academia College ERP System help ensure data security?
Academia College ERP system is advanced software that allows you to manage your data better and ensure security. The software is built to bring automation to various operations and reduces the need for manual intervention. Furthermore, it comes with a highly secure centralized data system that keeps logs, provides role-based data access, and comes with encryption. 
We ensure the protection of the following data: 
Personal and general information of the students

Fee data & Admission data 

Hostel data

Attendance records

Academic records

Student performance data

Alumni data 
How does Academia College ERP streamline data and operations? 
Using multiple tools for performing various tasks at your college can give way to security breaches. Not all software solutions offer secure interoperability. Also, integrations and plug-ins may not be implemented by keeping standard practices. 
Academia college ERP solution is a single platform where you can manage all the student information, and perform various tasks to manage your college, also you can use various reports and data analytics to take any decision for your college. 
Since it is a single platform, you don't have to worry about data sharing. Also, the product is configurable, you can stay assured that we provide secure 3rd party integrations to the software. 
The centralized database can be accessed as per the job role and through OTP or passwords. The data is highly encrypted and any breaches can be easily detected and declined automatically, without your intervention. 
Summing Up 
Data security is a necessity for educational institutes. It is important as you make your way toward digital transformation you must prepare yourself to fight cybercrimes. Academia College ERP system can be your chance to achieve both data security and digital transformation. Connect with our ERP specialists to understand more about the product and how we can help you in making your processes more robust, efficient, and secure. 
Related Posts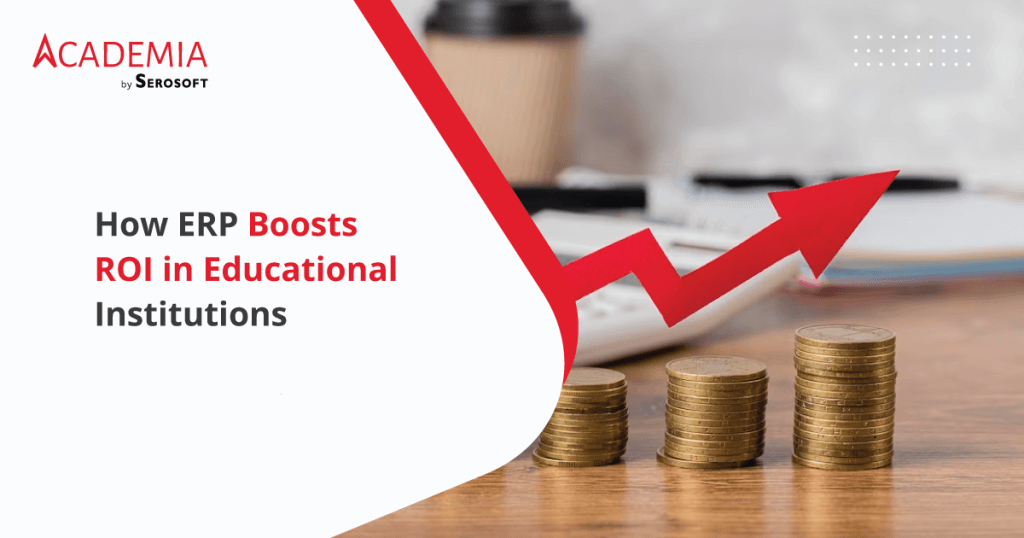 Maximizing ROI in Education: How ERP Boosts ROI in Educational Institutions
Reading Time: 3 minutes " Given a 10 percent chance of 100 percent payoff, you should take that chance every time"- Jeff Bezos, and what if there is a 100 percent chance of 200 percent payoff, one should just rush to grab the opportunity, […]