Ensuring Student Financial Success Through ERP
Reading Time:
2
minutes
One of the biggest challenges college students face is financing their degree. As the financial challenges elevate in the post covid era, as an institute it is imperative to think about the financial success of students through automation and simplification of financial aid processing. 
In addition, students' financial success can result in higher enrollment rates and retention. Here is how you can strategically remove the friction in financial processing and ensure a better experience for students at your institute. 
Improved Use of Financial Aid at Institutes
Colleges and universities are highly dependent on the financial aid they receive from various sources for the functioning of an institute. Just like it is dependent on the student fee, it is important to keep a track of the money that is coming as financial aid and manage spend. 
Modern software solutions can help manage various financial accounts functional in your institute and track expenditures. It gives you real-time reports and manages your finances better for optimal reporting. 
Automating Financial Aid Process
One of the biggest weights that cause lags in financial aid allotment to students is systemic inefficiencies. Using education ERP solutions such as Academia ERP can help you partially automate the financial processes and increase the data usability to improve employee efficiency. 
Moreover, personalized communication can be done with students digitally over various channels. This keeps your applicants engaged and ensures they receive real-time information on any movement of their application in the aid process. 
Reduce Complexities in the Process
Simplifying the process is a must. It is a critical step in process of eliminating any friction in the financial aid process. 
You can reduce the redundancies found in the system through the adoption of modern education ERP solutions. You can reduce the manual work in the processes and bring more seamlessness in the operations. You can pivot the unnecessary, repetitive steps in the process that cause unnecessary delays and automate the process partially. 
Document Collection
Use an ERP solution that provides robust document management. It comes with capabilities to collect information online and allow students to attach necessary documents to their applications. The documents and information are securely stored centrally that can be accessed as per the authorization provided to users by the admin. 
Creating Personal Engagement Plans
Creating personalized engagement strategies for students can help you address the challenges much better. Colleges tend to hold on to a lot of data and but since technology and its use is not fully realized in many colleges they fail to process it into meaningful information. 
Education ERP eliminates this challenge to provide you with rich reports. It profiles a student on various levels and provides a bird-eye view to a granular view of their challenges. Using this crucial information you can counsel your students better and ensure a higher retention rate in your institute. Utilizing data ensures students get relevant aid and information just in time and creates a stronger bond between the institute and the student. 
Wrapping Up 
Education ERP solutions are feature-rich and smart solutions for colleges that are looking to improve their operational capabilities. It helps improve data usability and eliminates unnecessary delays in the processes. It allows personalized communication with applicants and students and provides granular reports about your student on various levels. It can help you make a positive difference in the financial aid processing and improve your student experience, enrollment rate, and retention rate. 
Related posts: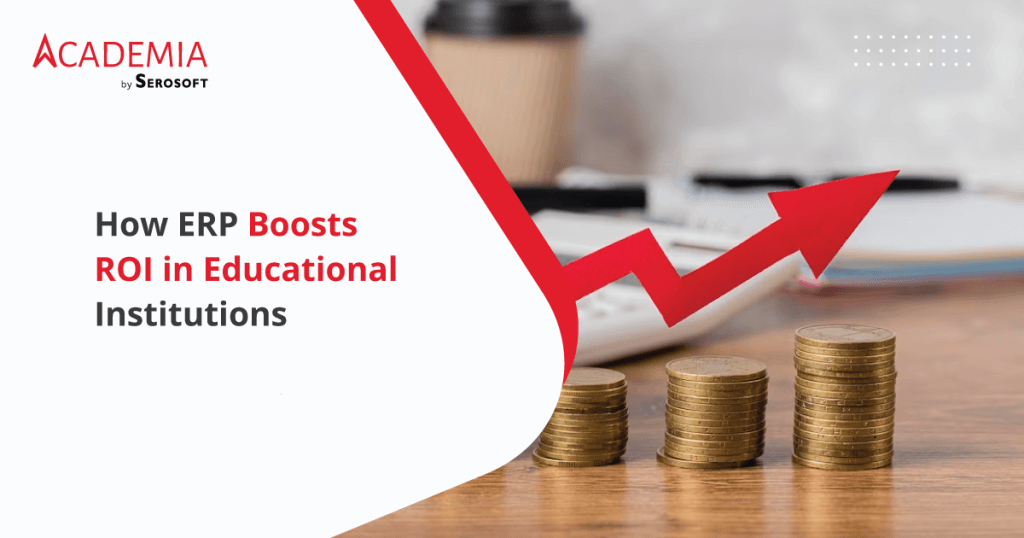 Maximizing ROI in Education: How ERP Boosts ROI in Educational Institutions
Reading Time: 3 minutes " Given a 10 percent chance of 100 percent payoff, you should take that chance every time"- Jeff Bezos, and what if there is a 100 percent chance of 200 percent payoff, one should just rush to grab the opportunity, […]