Serosoft is again recognized as Growth Champion in India by The Economic Times
Reading Time:
2
minutes
"Education is the most powerful weapon which you can use to change the world."
~ Nelson Mandela 
At Serosoft, we have taken this a step forward, here we believe, that:
 "Technology is the most powerful weapon that we can use to change the world of education."
With the modernization of education, various technologies and tools are helping institutions attain digital transformation and ultimately growth in all prospects.
To this, Serosoft, with its flagship product Academia ERP/SIS, is one of the best education ERP companies and is the core of 300+ institutions in more than 20+ countries across the globe. With multiple modules to manage all the academic & administrative operations, we are recognized as one of the prime ERP/SIS providers in the world. 
Our latest accolades include recognition by the Economic Times in 2022 for being one of India's Growth Champions. This is the 3rd time in a row that we appeared in this prestigious ranking of India's Fastest Growing Companies across all sectors. 
Have a look at our recognitions by the Economic Times for the last three years:
This recognition puts Serosoft among the top fastest-growing companies and education ERP companies from all sectors. 
This kind of recognition helped us in achieving our mission to usher in an era of digital transformation across the education ecosystem. 
Have a look at the certificate here: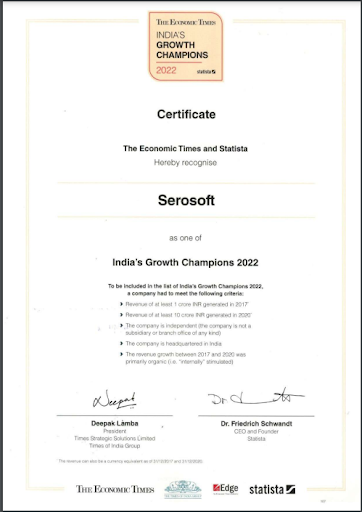 Why is Academia by Serosoft one of the best for modern educational institutions?
As mentioned above, Academia is helping various institutions bring differentiation in institutions. Thus making all the academic & administrative operations systematic & robust. 
Being a leading-edge solution for advanced universities, colleges, and schools, Academia automates its solutions. It is a comprehensive solution that streamlines every single task in the institution targeting greater efficiency, smooth leading, and control in every manner, being the backbone for institutions. 
So, are you excited to take a demo to drive our award-winning solution? If yes, request your demo now!