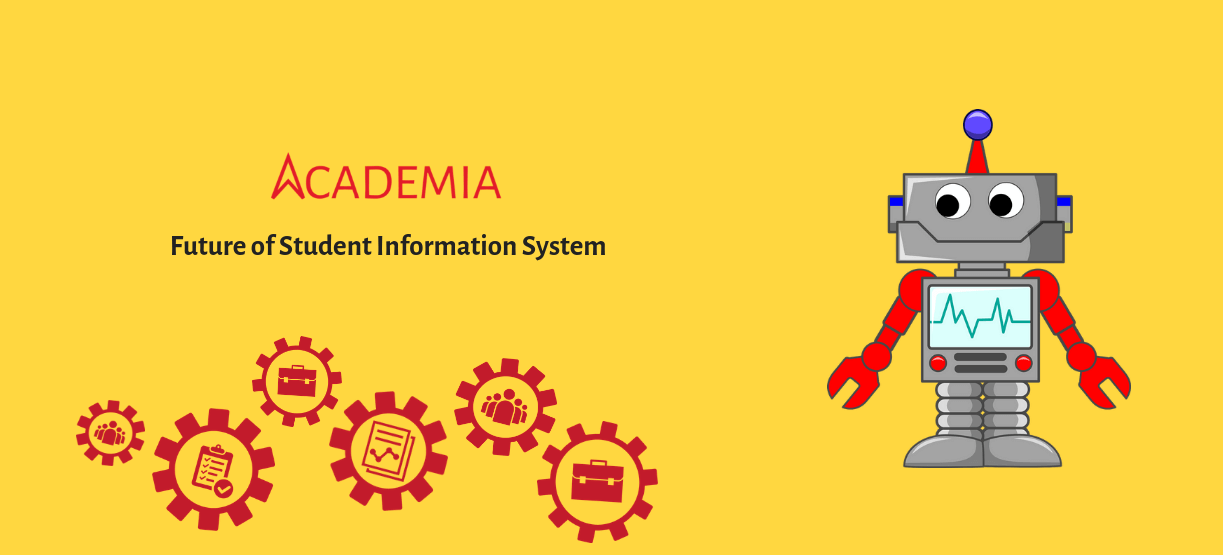 Student Information System in 2030
Reading Time:
3
minutes
There hardly goes by a day when people in the technology domain do not discuss data. It is the fuel, it is the new economy and so much more. Every day you will at least find one piece of news that would take you by surprise. People are creatively using data to build unique solutions and bring more efficiency to the system. 
Likewise in the education domain data is playing an important role. Tools such as Student Information Systems (SIS) are helping institutes to manage student data better, and keep the data secure at several levels. In this blog, we are mentioning some modern ways to use Student Information Systems for better business prospects in 2022 and beyond.  
Integration of modern technologies 
Other than cloud computing, technology providers would get more creative in implementing technology. Modern technologies such as AI, ML, and AR would become more prominent in the education ecosystem. Meanwhile, AR does not share a direct connection with student information systems, technologies such as Artificial intelligence (AI), Machine learning (ML), BigData, and Business Intelligence (BI) would make a deeper penetration into the system. It would allow education organizations to utilize the data efficiently in meeting their business goals. Student Information Systems would be central to all the operations in an education organization. Wherein, they would use an integrated network of various tools to discover market trends and market risks and ensure they have an improved market position through this newfound knowledge implementation. 
Improved Business operations 
Information plays a very important role in every industry. One of the biggest reasons for businesses to be spiked by losses was the lack of transparency in the system which did not allow meaningful information exchange. With Student Information Systems, education institutes can derive useful information in a matter of minutes and strategize accordingly. Tools such as AI and ML allow institutes to get answers to their most dreaded questions by incorporating their experience with suggestions from algorithms. 
Adaptive Learning for personalized learning 
Similar to business strategies, these technologies would become more useful and prominent in improving student experience and performance. Concepts such as adaptive learning are driven by the power of data and information. Using meaningful information about students, faculties are seen using unique methods to make sure knowledge retention is higher than before. Furthermore, continuous evaluation gives higher scope of strategic improvements and increases student outcomes. 
Improved and faster processes 
A Student Information System is a centralized database that holds information about students right from the application stage to alumni. It continuously grows as new information is added to it. This information can be used creatively by the technology providers to allow centralized and secure access. They can use the data as per their usage and perform various tasks based on their professional goals. This collaboration and faster access to information provide them an opportunity to take the right decision and avoid any risks that may hinder the prospects for education institutes. It encourages productivity, and efficiency in the employees while appreciating their accountability towards students and the organization. 
Student handholding
The education industry is centrally focused on giving the future generation a better tomorrow. Economic stability is a dominant part of it. Assisted recruitments and career counseling are a dire need. As the Student Information System holds all the required information; career counselors and faculty members can utilize the data to provide better career guidance to students. Also, complementary tools such as placement centers that are well connected with the student database can provide faster information to students about placement fairs, job fairs, training opportunities, internships, etc. 
Learn student risks 
When the right people get the right information at the right time, you would be surprised how efficiently they work. Sometimes as a business we believe outcomes entail accountability. But it is not the case, although people realize their accountability towards their professional goals, they are helpless when they don't have the right tools to perform. 
Using a Student Information System you can drastically change this scenario with the elimination of opaqueness. Your faculty would be more efficient in realizing the risk factors associated with each student and they would make positive efforts to avert these risks as required. This helps you ensure that the drop rates are low at your institute and thus, have a healthy revenue generation throughout the lifecycle. 
Student support 
In the end, transparency in communication allows you to find the problems hidden in the system. Also, AI-powered chatbots and email marketing tools can help you provide quicker support to students and improve their experience with the institute in multitudes. 
Wrapping Up 
A Student Information System is a dynamic tool that allows you to bring more transparency, collaboration, and efficiency to the system. But most importantly, it has to secure the student information at all levels. You need to ensure that your service provider follows the data protection guidelines and provides 24*7 support to ensure a glitch-free experience all throughout. For this, you can consider Academia SIS Solution. We are a world-leading education ERP that helps you in digitalizing your core operations and brings automation to your processes. To learn more about our services, drop a query here.