Top 5 modules that help in automating College Management
Automation in Education
,
Campus Management Software
,
Cloud ERP
,
College ERP
,
College Management Software
,
Education
,
Education ERP
,
Education ERP software
,
Education Management System
,
Educational ERP
,
ERP Implementation
,
ERP Solution
,
ERP Solutions with Cloud Server
,
Higher Education
,
Institute ERP
,
Mobile ERP
,
Student Information System
,
Student Management Software
,
Student Success
,
Training Management System
,
University Management Software
Reading Time:
3
minutes
For any college to make a mark in the education space, a strong support system is of utmost importance. While an institution forges towards educational advancement, there is a range of other responsibilities that need equal attention. Spanning from student data management to logistics support and even daily assessments, college administration is indeed an arduous process. 
A smart way to accelerate these tasks and introduce efficiency is by shifting to automation. A good education ERP not only offers 360-degree automation but also brings about a digital transformation in the institute ensuring a competitive edge.
Academia College Management System offers 20+ modules along with other configurable features. Here are the top modules that effectively automate the administrative processes in an institution.
Admissions
This module manages all aspects surrounding admissions including campaigns, registrations, online forms, and enquiries. The online application portal helps parents and students with numerous queries related to the processes and relieves the prospective students from multiple enquiry visits to the college.
The higher education system at times has additional steps within the selection process for college admissions which makes it even more complicated. With the help of a student information system, all of these can be integrated in a single module, making the process easier and simpler.
Attendance and Leaves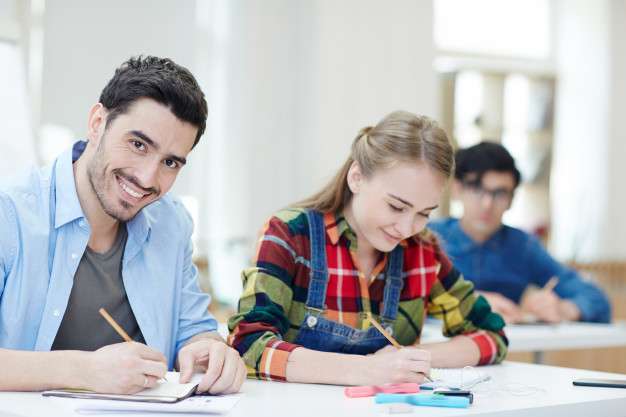 Daily class attendance conducted manually, is often a time-consuming task for the faculty and demands a significant amount of their already limited teaching hours. Academia College Management System automates this with RFID and biometric integration to track the attendance records of the students & even faculty using web & mobile devices. This also helps generate different reports related to attendance & leaves for a clearer record and analysis. The feature also allows online leave applications with automated leave processing for both students as well as the college staff.
Dashboard & Reports  
One of the main advantages of automation is that it aids in better and quicker decision-making. For instance, it helps track the progress of the college and generate reports in a single click leading to faster conclusions.  
An Education ERP also has features that give complete financial control, help with collated reports of the college activities and generate multiple reports on tasks such as attendance, leave, timetable, exam results, fee collection & dues, etc.  
All of this helps in institution plan and strategize better on the educational as well as administrative fronts. 
Fee Management
A fee management feature can set up the complete fee structure for an institution according to student categories, courses, service requirements, etc. The system also has provisions for alert notifications on late payments, fines and can send messages via SMS or email regarding the due date for payments.
An education ERP solution also provides customized invoice/ bill generation where you can make changes according to your needs and download records in pdf or excel format in bulk.
With a fee management system, you have the power to digitally control and automate the finances of your institute. You can access documents from other departments and view and generate reports from the financial database.
Inventory Management
Implementing college management software in your institute also lets you digitally control every minute detail associated with hostels and logistics. You can monitor the inventory related to the physical design of your hostel like no. of rooms, floors, beds, etc. With biometric integration, you can manage the hostel's in/out records. With GPS integration you can keep a track of the location of the school/college vehicle. All of this saves a significant time that manual entries demand on a day-to-day basis
With all these and more, Academia College Management System is one of the leading ERP solutions for your college, offering a complete digital transformation through automation. Check out more from our experts with a free demo now!