What are the benefits of school management software that you should know?
Automation in Education
,
Campus Management Software
,
Cloud ERP
,
Education
,
Education ERP
,
Education ERP software
,
Education Management System
,
Educational ERP
,
ERP Implementation
,
ERP Solution
,
ERP Solutions with Cloud Server
,
Institute ERP
,
Mobile ERP
,
School Management Software
,
Student Information System
,
Student Management Software
,
Student Success
Reading Time:
3
minutes
Technology in the education sector is benefiting many educational institutions and educators around the globe. With increasing trust in a reputable school management system, institutions can manage their day-to-day tasks seamlessly.
Software for school management can regulate, monitor, and manage the entire school campus. With interoperability and continuous advancements in the school management software, it makes it easier for staff, teachers, and students to create an enabled and empowered education ecosystem.
The education sector is not just about the business, it is also about the future of students, and both factors are considered under the implementation of School ERP in an institution. It brings productivity & efficiency to administrative processes. It allows teachers to invest their time in student development rather than time-taking paperwork.
The best software for school management simplifies the school system, brings transparency among stakeholders, and increases revenue with time.
Let's see what the key benefits of school ERP software are:
Smart data storage is present in the school management software, empowering education institutions. An online school management software is a cloud-based solution that gives centralized data management that can be stored securely & safely on the server. It reduces the risk of data loss and the cost of data storage. It is the best tool to store all the essential data of a school. The School ERP providers also provide recovery from any disaster if there is any loss of data. Moreover, it also gives easy access to the data to authorized users only, which we'll discuss later.
Easy access with multiple device compatibility
As mentioned earlier, online school ERP stores all the information in a single platform. The admin can decide how many users he wants to have to access that information. The admin can also choose what information he wants to share with a particular user. With the availability of data on the server, anyone with authorized login credentials can access the data anywhere.
The best software for school management such as Academia SMS also provides a mobile app, a mobile responsive portal from which the user can get the information they need. Students can submit their documents, submit fees online, download assignments, mark sheet, etc. There is no need to stand in the line and wait hours to get a single document. This makes the information flow highly convenient.
Great Student-Teacher Collaboration
Using this software increases student-teacher connectivity and makes it possible beyond the classroom. This also increases the interaction between students and staff members. They can interact online via the portal or mobile app, by which teachers can upload the assignments, and students get the notification. They can submit the completed assignments via the student portal.
Increased Student Enrollment
School ERP can manage admission campaigns, lead generation, student inquiries, etc. Academia School ERP helps schools to achieve admission targets, provides an AI chatbot for inquiries management. Automating admission processes, not only saves time but also gives convenience for parents and students to know about institutions and apply seamlessly. This ultimately reflected in increased student enrollments.
Recommended Reading:  7 Best Tips for Successful Implementation of School ERP
Reduction in the Administration Costs
All the essential data is available online that is accessible to users; hence there is a reduction in data storage and communication. Almost all the paperwork is done online, which means a decrease in stationery costs. As this is online software, schools only need to pay license costs and server costs, and they can reduce unnecessary IT and Hardware costs on the campus.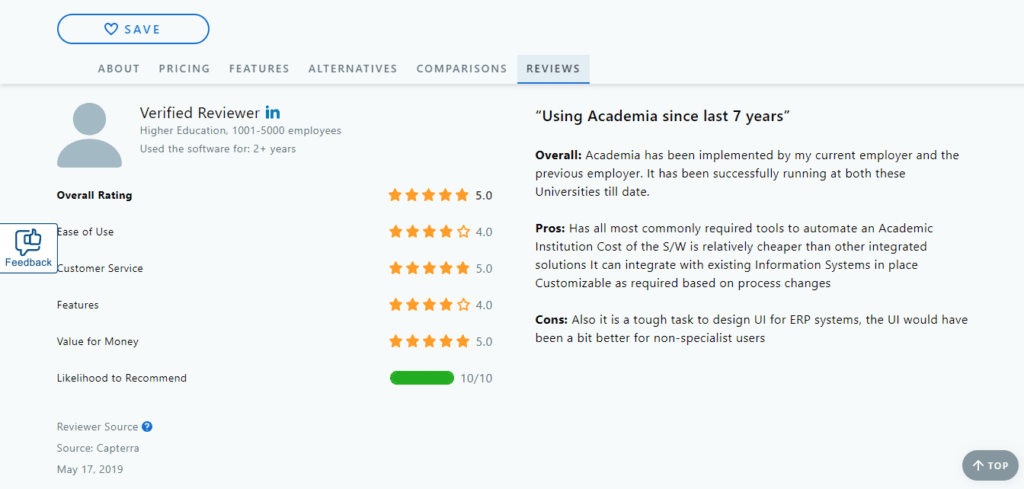 The bottom line
Academia SMS is one of the best software for school management and is empowering the education institutions irrespective of their sizes. It brings productivity and helps them to perform day-to-day processes seamlessly. It is the time when technology is becoming the backbone for the growth of an organization. If any educational institution is lacking in digital advancement, it can hurt the whole institute's system in the long run. And when it is the question of an institution that builds the future of a nation, it is of utmost importance that it should be future-ready as well. And that's where the digital transformation comes into the picture.
Do you want to make your school future-ready? Talk to our school ERP experts and know-how Academia SMS can help your school to grow in the digital age. Take a free demo now!