ABET Accreditation: A Comprehensive Guide for Higher Education
Reading Time:
5
minutes
What is ABET Accreditation?
ABET (Accreditation Board for Engineering and Technology) is a globally recognized accreditation body that assesses and validates the quality of applied and natural science, computing, engineering, and engineering technology programs. ABET accreditation is a prestigious mark of distinction for educational institutions and programs, signifying that they meet or exceed rigorous standards of quality and excellence.
Why ABET Accreditation Matters?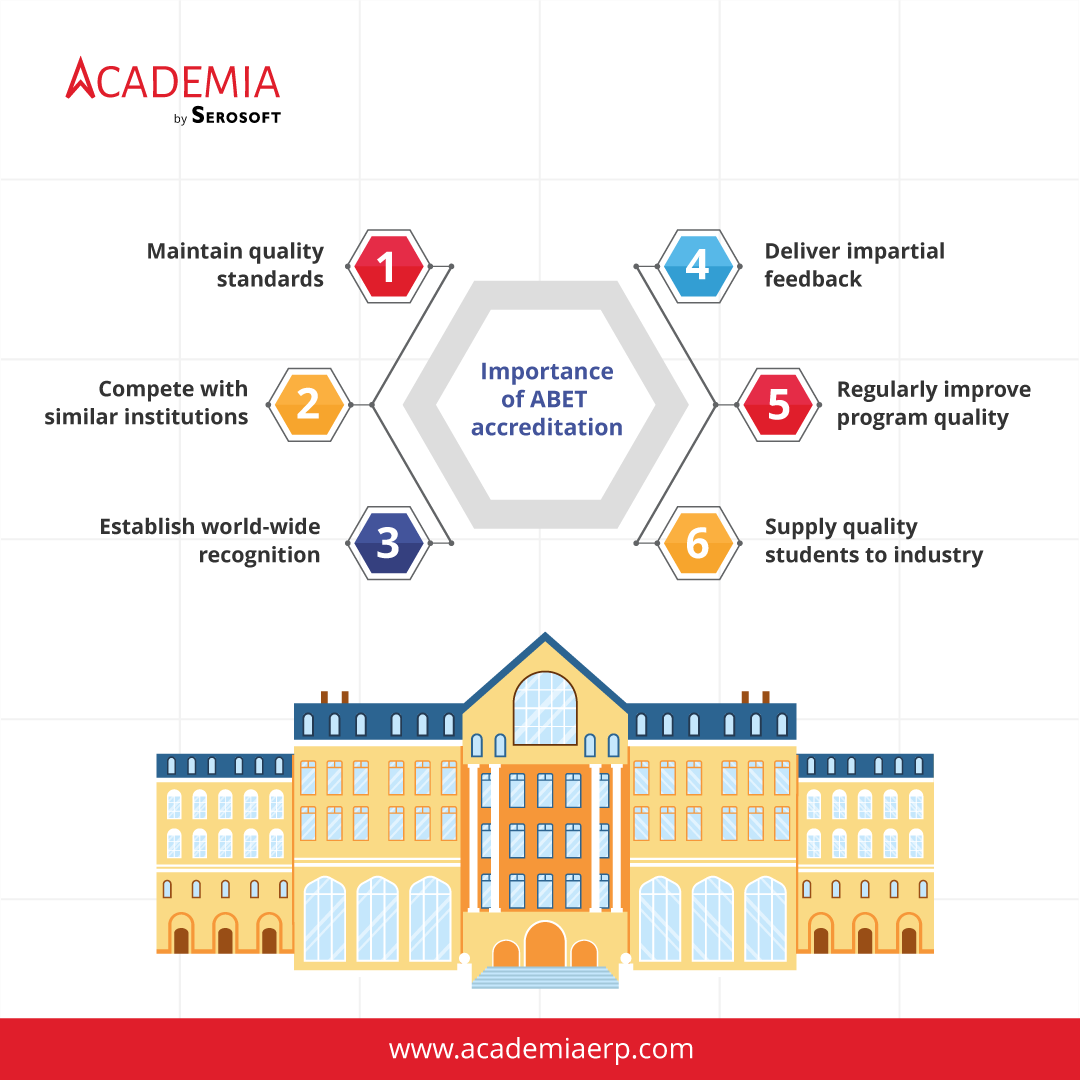 ABET accreditation holds immense value for both students and educational institutions. For students, it assures that the program they are pursuing meets the highest educational standards and prepares them for successful careers in their chosen fields. It enhances their employability and ensures that they receive a quality education that aligns with industry demands.
For educational institutions, ABET accreditation demonstrates their commitment to academic excellence, continuous improvement, and producing graduates who are well-prepared to contribute effectively to their respective industries. It also provides a competitive edge, as employers and graduate schools often prefer candidates from ABET-accredited programs.
What Programs Does ABET Accredit?
ABET accredits a wide range of programs in the fields of applied and natural science, computing, engineering, and engineering technology. Some of the disciplines covered include:
Aerospace Engineering

Chemical Engineering

Civil Engineering

Computer Science

Electrical Engineering

Environmental Engineering

Industrial Engineering

Mechanical Engineering

Software Engineering

And many more
Program Eligibility Requirements
To be eligible for ABET accreditation, programs must meet certain criteria. These criteria include having a well-defined educational objective, a comprehensive curriculum that covers essential knowledge and skills, qualified faculty members, appropriate resources and facilities, and a commitment to continuous improvement.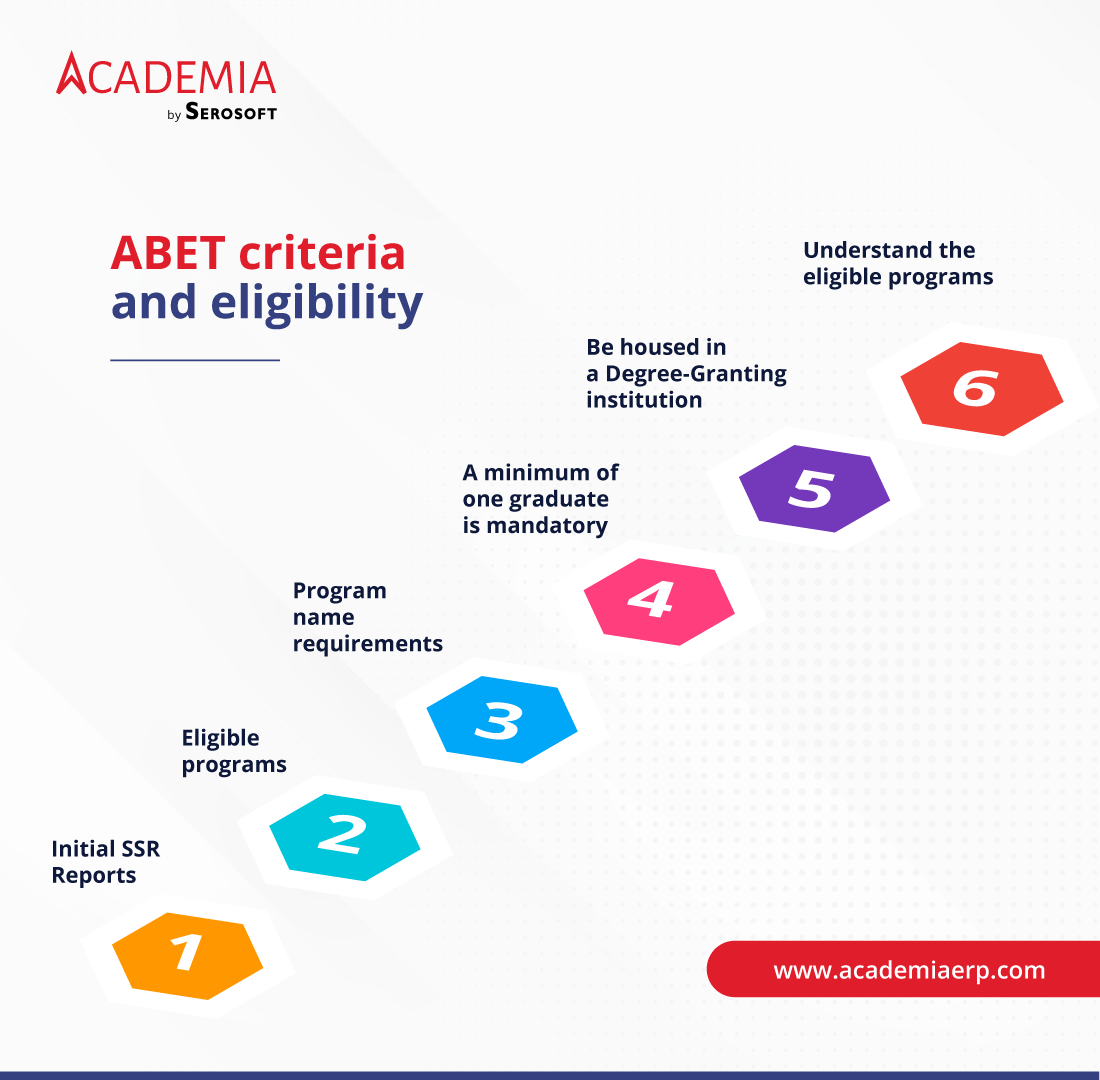 Licensure, Registration & Certification
ABET accreditation is closely tied to licensure, registration, and certification requirements in many countries. For certain professions, such as engineering and surveying, graduating from an ABET-accredited program is often a prerequisite for obtaining a professional license or certification. ABET accreditation ensures that graduates have met the necessary educational requirements for professional practice.
Get Accredited
If you are an educational institution seeking ABET accreditation, the process involves several steps that span some time. Here is an overview of the accreditation process:
Accreditation Step by Step – Timeline & Cycle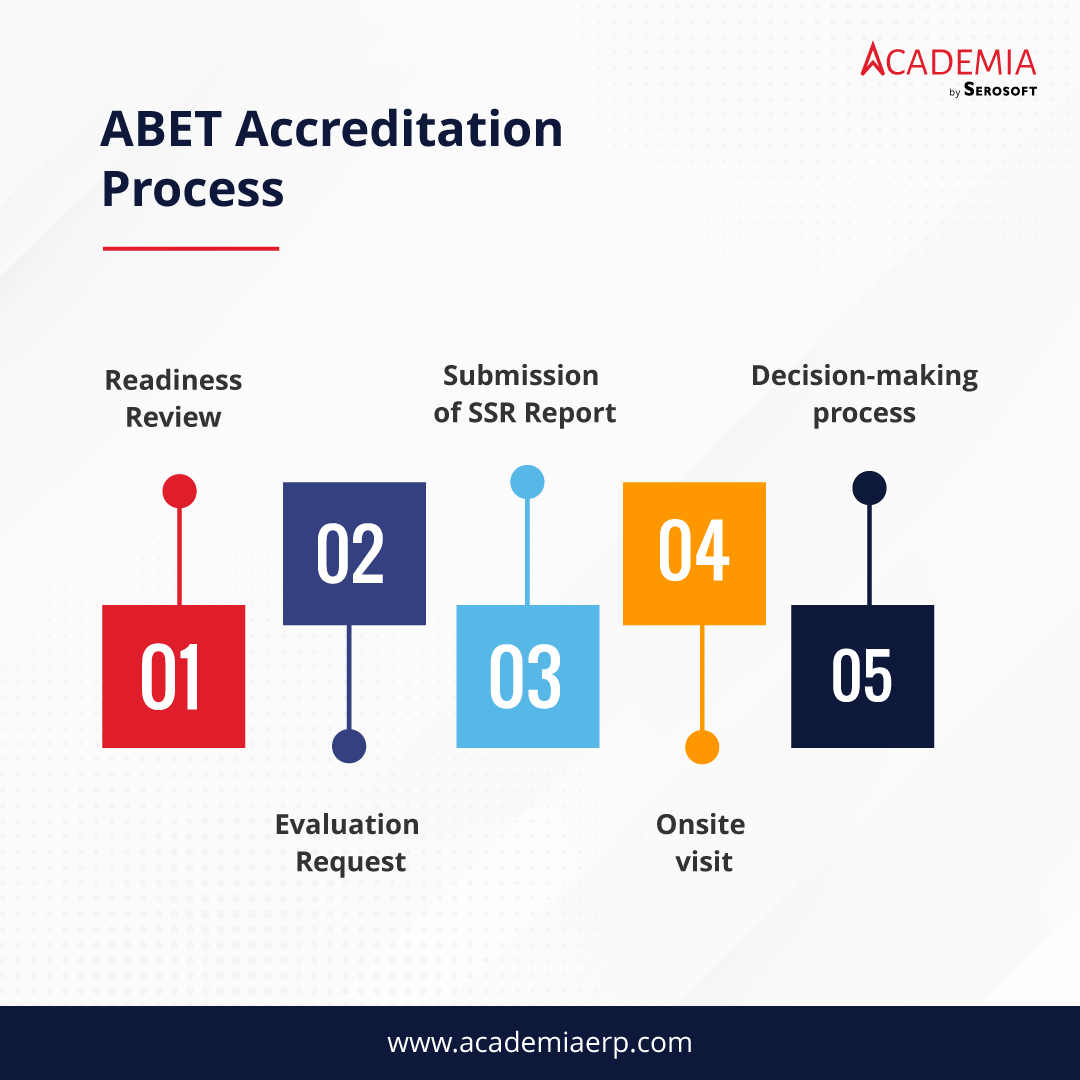 1. Request for Evaluation (RFE): The institution submits an RFE to ABET, expressing its intent to seek accreditation for specific programs.
2. Assessment Planning: The institution prepares for accreditation by conducting a self-assessment, identifying areas of strength and improvement, and developing a plan to meet ABET's accreditation criteria. Academia ERP's 400+ reports can help here for a prompt and real-time, impressive report.
3. Changes During the Period of Accreditation: The institution must notify ABET of any significant changes in its programs, such as curriculum modifications or faculty appointments. Through Academia ERP, this Information can be easily sent in just a few clicks.
4. Decision & Notification: ABET conducts an evaluation, which includes a site visit and review of self-study materials. Based on the evaluation, a decision is made regarding accreditation. The institution is then notified of the decision.
Creating Program Educational Objectives & Student Outcomes
Clear program goals and assess student progress – To establish clear program goals and assess student progress, it is important for institutions to define long-term program educational objectives. These objectives should be aligned with the needs of the stakeholders and in accordance with the standards set by former students. Academia ERP's student performance reports and customized dashboards can help the institutions to smoothly deliver on this parameter.
Defining student outcomes – By defining student outcomes, faculty members gain valuable insight into the expected learning outcomes for students and can ensure consistency throughout the curriculum. Academia ERP's dedicated Module on "Outcome based education, Institutions can easily define goals and assess student's progress.
Performance indicators – Performance indicators play a crucial role in evaluating student competence. They encompass the skills, knowledge, and attitudes that students should demonstrate before completing their studies. With the help of Academia ERP's comprehensive dashboards on student reports like – progress reports, extracurricular activity reports, research reports, etc., institutions can effortlessly manage this criterion.
Accreditation Outside the U.S.
ABET accreditation is not limited to educational institutions in the United States. Institutions from around the world can seek ABET accreditation, provided they meet the required criteria and standards. ABET has specific processes and guidelines in place for international accreditation.
Reaccreditation
Accreditation is not a one-time event; it is an ongoing process. Accredited programs are periodically reevaluated to ensure they continue to meet the standards of quality and excellence. Reaccreditation typically occurs every 6 years, allowing programs to demonstrate their commitment to continuous improvement.
Additional Resources
ABET provides various resources to support educational institutions in the accreditation process. These resources include:
Promote Your ABET Accreditation: Guidelines and materials to help institutions promote their accredited programs effectively.

ABET-Accredited Logos: Official logos that can be used to showcase ABET accreditation on marketing materials and websites.

Accreditation Criteria & Supporting Documents: Detailed information on the criteria and documentation required for accreditation.

Self-Study Templates: Templates and guidelines to assist institutions in preparing their self-study reports.

Accreditation Changes: Updates and information on any changes in ABET's accreditation criteria and processes.

Accreditation Fees and Invoice: Details regarding the fees associated with the accreditation process.
Fee Structure:
Accreditation and related activities involve certain fees. Here is an overview of the fees associated with different aspects of the accreditation process:
Readiness Reviews:
Fee for each program reviewed: $1,100
Accreditation Program Reviews:
The base fee for a program review: $8,500

Fee for each program evaluator (PEV): $8,500
Additional Fees:
One evaluator reviewing two programs: $400

An extra day, per program evaluator: $400

Visit to an off-campus location, per location, per program evaluator: $400

Travel Expense Reimbursement: Actual expenses incurred
Interim Reports:
Fee for each program reviewed: $4,500
Program Termination Fees:
Fee for program termination visit only (if no other programs are being evaluated): $8,500

Program termination visit additional fee (if other programs are being evaluated): $4,500

Fee for program termination report evaluation (no visit required): $4,500
Annual Maintenance:
Base fee per campus per commission: $1,550

Fee for the accredited program at each campus: $1,550
ABET accreditation is a significant achievement that assures students and employers of the quality and relevance of an educational program. It represents a commitment to continuous improvement and producing graduates who are well-prepared for their professional careers. Academia ERP ensures easy processing of the entire accreditation process and will help you submit the relevant reports effortlessly. By following the accreditation process and utilizing the resources provided by ABET, educational institutions can enhance their reputation and provide their students with the best possible education.
Related posts: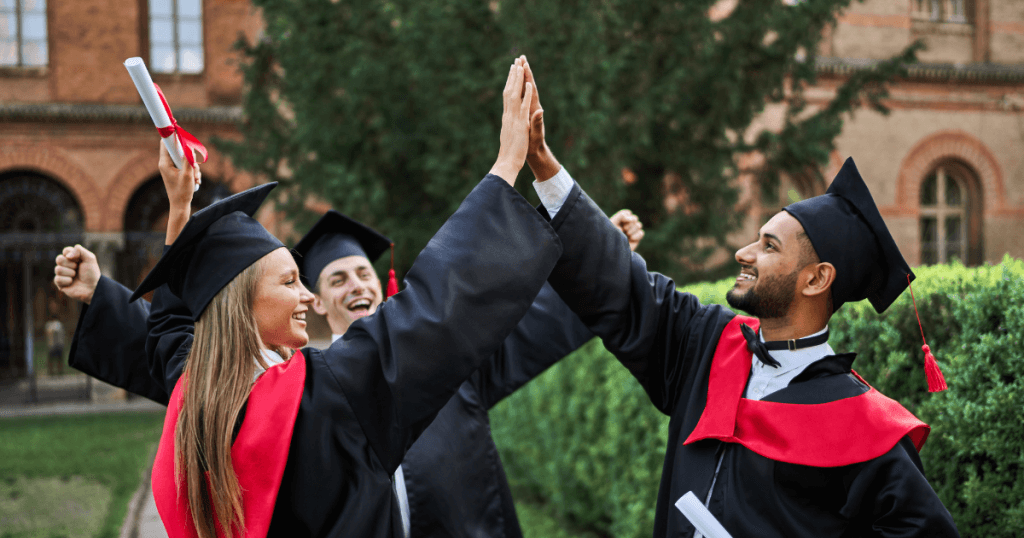 Navigating Change: Effective Change Management in Education
Reading Time: 2 minutes Change is an inevitable aspect of life, and the education sector is no exception. As technology continues to reshape the landscape of learning, embracing change becomes crucial for educational institutions. Change management in education entails strategic planning and execution to […]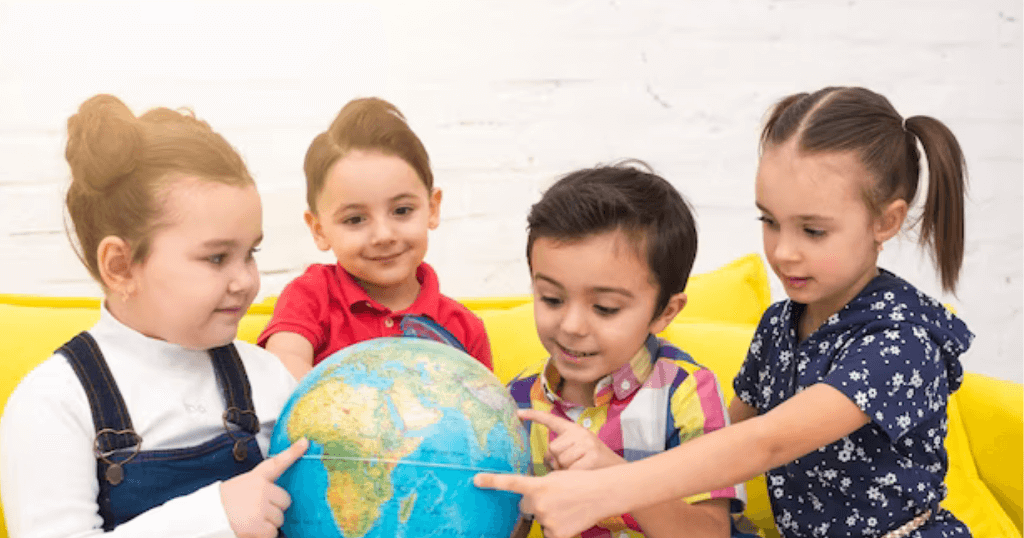 Empowering Academia with Experiential Learning through School Management Software
Reading Time: 2 minutes Effective learning is paramount in the dynamic landscape of academia, where the integration of experiential learning has emerged as a pivotal strategy. The modern educational realm demands resources and approaches that cater to the holistic development of students. This is […]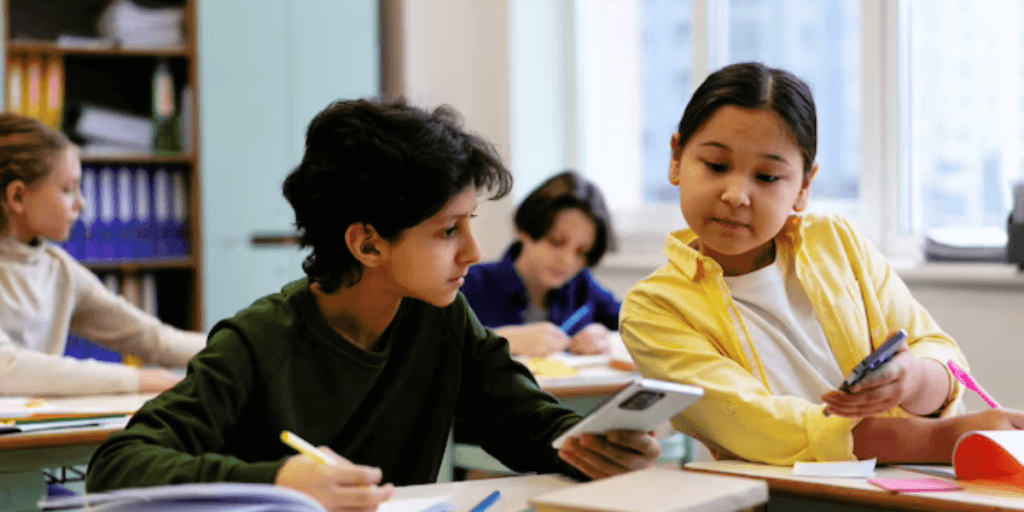 Enhancing IB Programme Evaluation Through Technology: A Modern Approach to Educational Excellence
Reading Time: 4 minutes The International Baccalaureate (IB) Programme stands as a beacon of educational excellence, fostering a holistic approach to learning that prepares students for success in a globally interconnected world. At the heart of this renowned educational framework lies the critical process […]