Academia Student Management System for K-12: All 32 Modules
Reading Time:
9
minutes
K-12 is an American expression that is used for indicating the public-supported primary and secondary education in the USA, Afghanistan, Australia, Canada, China, Ecuador, Egypt, India, Iran, Phillippines, South Korea, and Turkey. It means student education from Kindergarten to 12th grade, which is approximately 13 years of basic education.
13 years of basic education, thousands of activities every year, and millions of bits and bytes of data that is stored somewhere on your computer or in a large bulky register. In the end, you would realize, managing the lifecycle of thousands of students learning in your organization becomes difficult, and almost impossible due to the inefficiencies found in traditional management.
Modernization of education institutes thus becomes necessary. Accountability has to increase in each department to improve the student experience and ensure higher knowledge retention for better student outcomes. Student satisfaction too is something that is not considered by many organizations as they don't have the proper tools to render it and also calculate it. With student management software you can change that.
Introducing Academia Student Management System
Academia ERP/SIS is an education ERP suite that comes with advanced solutions to manage your internal and external operations. It has an inbuilt student management module and a data repository with a variety of features and functionalities that allow faster operations, accuracy, and transparency, making lives better for students in your institute.
All 32 Modules Explained
1.Organization Setup
Organization setup is an important tool in your kitty that allows you to set up the software as per your organization structure. It allows you to create departments, manage calendars, add/manage resources, set up fees & payment settings, and more. It is a wholesome tool that leaves no aspect of an education organization untouched and allows end-to-end configuration for optimal working.
2. Campaign & Enquiries Management
Pertaining to the pre-admission phase, you get a dedicated campaign management tool for institutes. The efficient system allows you to manage online, and offline enquires, set up enquiry forms, create reports, and get predictive analytics for the pre-admission phase of the academic year.

3. Admission management
The traditional management of the admission process has many shortcomings such as missing out on important enquires and lack of communication between staff, and prospects. Battle these challenges with Academia Admission Module that helps you in streamlining all the admission-related processes and increases your admission rate significantly.
Fun Fact: Did you know, False Bay College in South Africa reported 100,000 applications in an academic year after the implementation of Academia Education ERP? Check out the full story here.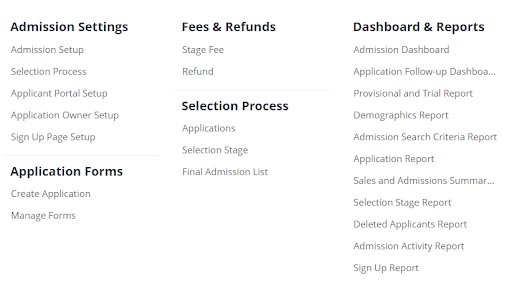 4. Student Module
One of the finest features of the Academia Education ERP suite, the software comes with a dedicated student web and mobile application. It has all the features and functionality that allows a student to manage their profile and other academic and non-academic operations.
It comes with advanced features such as timetable management, assignment submission, a dedicated drive to store knowledge resources, and communication tools. Also, we recently introduced "Sera" an AI-driven virtual assistant to make app browsing more user-friendly.
5. Fees Management
Fees and Payments is one of the modules in the Academia ERP which streamlines all the transactions happening in your organization. The advanced solution allows you to integrate it with reliable 3rd party payment gateways wherein you can accept online fee payments through credit/debit cards, UPI, net banking, and other options.
Also, the toolset allows you to manage the fee receipts much better. It digitally stores all the information about fee payments and makes it easier for you to keep records.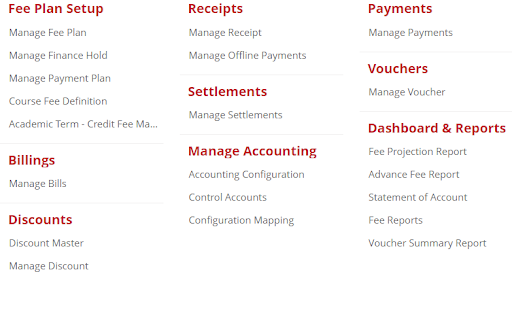 6. Program & Course Management
The feature-rich module is a one-stop solution for you to manage all the programs and courses in your school. It allows you to create study plans, build reading material, capture student attendance, manage timetables, and generate numerous reports on programs, courses, student engagement, student performance, etc.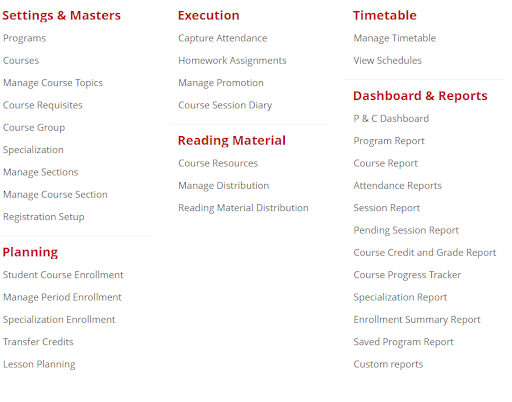 7. Timetable Management
Timetable creation and management can eat hours and hours of your productive time and still not guarantee accuracy and ease. With Academia ERP, you get a dedicated timetable management functionality that allows you to manage the timetable of all the programs and courses.
It allows you to create a master timetable and an extended timetable, and manage them. Also, you can import the timetable directly to the system using a pre-built format that comes with the system.

8. Student Attendance Management
Attendance is a repetitive and regular task in all educational organizations. However, it is also taking. You have to consolidate all the attendance data at the end of the day, month and year to calculate the student attendance percentage which is a hassle for the teachers.
With a dedicated student attendance management system, you can do it with a few clicks. This advanced tool comes with reports and analytics and various features to mark student attendance easily to store on a central data repository.
Furthermore, the Academia ERP student mobile application comes with a QR code-based attendance marking system through which students can easily mark attendance. This would completely eliminate the need for teachers to do attendance marking activities on daily basis. Similarly, you can choose attendance Biometric, and RFID attendance marking system integration as well.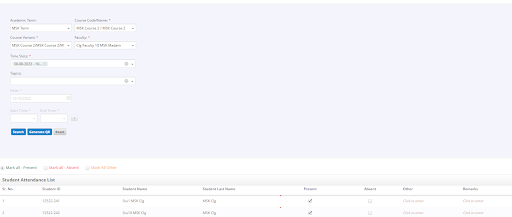 9. Discipline Module
It is important to ensure that students are on their best behavior in the institute and are diligently participating in academic and non-academic activities to ensure growth and better prospects. Hence, Academia ERP comes with a discipline module, that allows you to take disciplinary actions against students.
10. Examination and Marksheet Management
Academia ERP offers end-to-end digitalization of the student lifecycle, right from admission to examinations to alumni. Examinations are the most strenuous times of the year. Not only is it stressful for the students but the administration and teachers too are usually drowning in workload during these times. To automate and streamline this phase of the academic year we have some amazing features.
Academia ERP comes with pre-examination, examination, and post-examination features and functionality that end-to-end digitalizes the entire process. Some salient features of the module are: setting up a grading system, resource allocation, and management, fee collection, hall ticket distribution, mark entry, and reports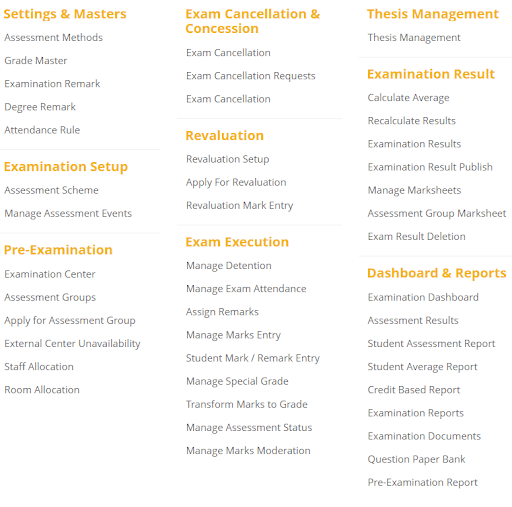 11 Assignment Management
A book for students and teachers both the software comes with advanced solutions to allocate assignments, define assignment groups, collect assignments, manage them, grade them, etc.
This is a two-sided feature, which comes with student-side features as well, where they get to see their classwork and assignments, and also submit assignments using the Academia ERP student mobile application.
12. Graduation management
Manage student grades, create report cards, and create a list of graduating students without any chances of data mishandling or mismanagement through Academia ERP.
13. Calendar Management
Manage employee calendar, academic calendar, and holiday calendar on the go and bring more seamlessness in the operations. No more creating calendars on paper and circulating them all across your institute. Create calendars that are well-integrated with all the departments, and also with web and mobile applications – bringing ease into the lives of students, teachers, admins, employees, etc.
14. Task management
Task management is another advanced tool that allows employees to create their own task sheet and keep a track of their day-to-day activities and tasks. This allows more transparency in the system and helps your employees to stay highly productive and organized. To take the experience a notch up, there are also dedicated reports for task tracking.
15. Security Gate Management
Not only data security but we also ace security at all levels. Manage your on-campus appointments, manage visitors and enjoy other features in the software that allow easy management of the security gate.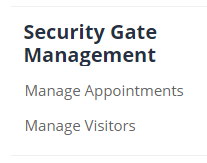 16. File Management
Easy management of files that allows you to secure information related to all academies at one location and perform various tasks. The efficient file management system allows you to upload files of various formats and gives you unlimited storage capacity.
17. Committee management
Manages committees in your organization and its members and activities from a dedicated dashboard without having to take reports from each person. The tool allows you to allocate coordinators and define members with the system which gives you the utmost convenience to manage all committee-related tasks, activities, and communication in one place.
18. Front desk management
A complete solution to manage all your front desk activities. The toolset allows you to check items coming in and going and trackable through item codes. Also, you can keep track of the people receiving or sending items and even bills.

19. Transport management
If you have an in-house transport service for your employees and students this tool is a must-have. The tool allows you to manage vehicle types, add stops, and manage vehicles, and routes. It also allows you to get transport reports including that on any due fees.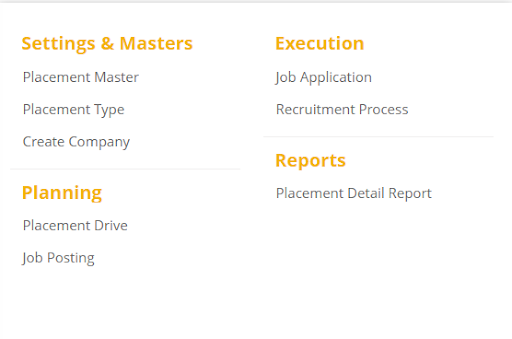 20. Resource booking management
Now assigns and schedules all the resources in your organization and ensures there are no hiccups in academic and non-academic activities. The advanced tool allows you to manage equipment, labs, grounds, transport items, meeting rooms, and more.
21. Certificate and Document Management
Create certificate templates and manage important documents to allow easy management of all the certificates and documents in one place. The software allows various departments to use certification templates as per their usability for improved work efficiency.
22. Faculty Management
An end-to-end faculty management system that automates every step fo the faculty lifecycle. Right from onboarding to recruitment to workload management, the advanced tool gives you features and functionality to manage and ensure higher efficiency in faculty with useful data insights.
23. Scholarship / Sponsorship Management
Allocate funds for outstanding students and help them economically to perform better in their education and in their careers. With this amazing tool, you would be able to allocate a specific budget for scholarship and sponsorship and manage it on the go by allocating it to the students and also generating reports.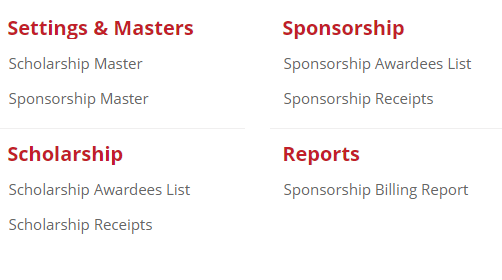 24. Outcome-Based Education Management
If you follow the outcome-based education theory in your education ecosystem, enjoy dedicated features and functionalities to manage the tasks around it. OBE correlation percentage setting, program and course outcome setting, a variety of reports, and more are some available features that would allow you to manage and perform all tasks for outcome-based education management.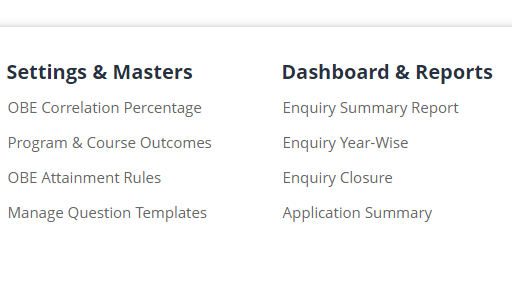 A robust placement management system that allows you to add companies, create job postings, manage job applications, monitor and manage the recruitment process and create detailed reports.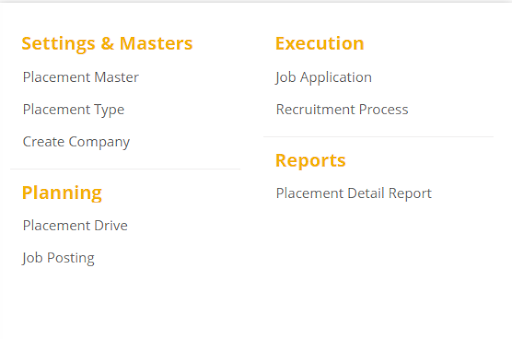 26. Hostel Management
Hostel management software is designed to manage all the hostel activities like admissions, fee collection, receipt management, mess allotment, hostel stores and maintenance activities, inventory management, and more. The tool also comes with attendance marking system and a variety of reports on room availability, attendance, occupancy report, fees report, and more.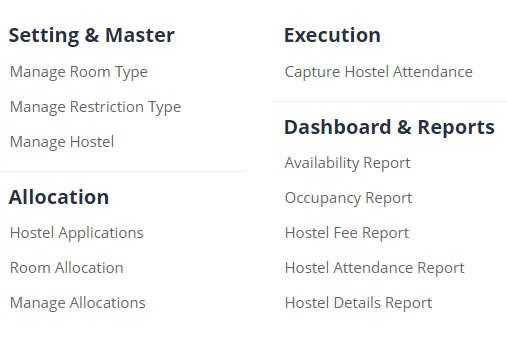 27. Election Management
Take your school elections online with a feature-rich election management tool. Academia ERP allows you to manage elections across all the locations and academies for various positions on the go. The digital solution comes with tools that bring transparency to the election and voting processes. This allows you to ensure school elections are centrally managed and also, fairly.
28. Thesis Management
Get a feature-rich thesis management dashboard that allows you to administer, monitor, and evaluate the progress of the thesis creation, submission, and approval from a single dashboard. Furthermore, it comes with a filter system that allows you to filter-out students based on various factors.

29. Infirmary Management
Manage inventory, staff, infirmary beds, student health information, and more through a single dashboard.
30. Messaging and Notification
Enjoy an omnichannel messaging and notification system that allows you to communicate messages to teachers, students, and parents easily over the phone, email, and chat from official sources.
31. User role allocation and management
Manage software users easily from a single dashboard and allow and deny access to the employees based on their work profile and organizational hierarchy.
32. Analytics and Reports
Analytics and reports are one of the most outstanding features of Academia ERP. The software comes with advanced reports that give you a granular view of the processes and operations. Fueled with AI and ML these reports brings predictive analytics to your system where you get to make data-backed decisions and ensure better working between various departments and improve processes.
Related Posts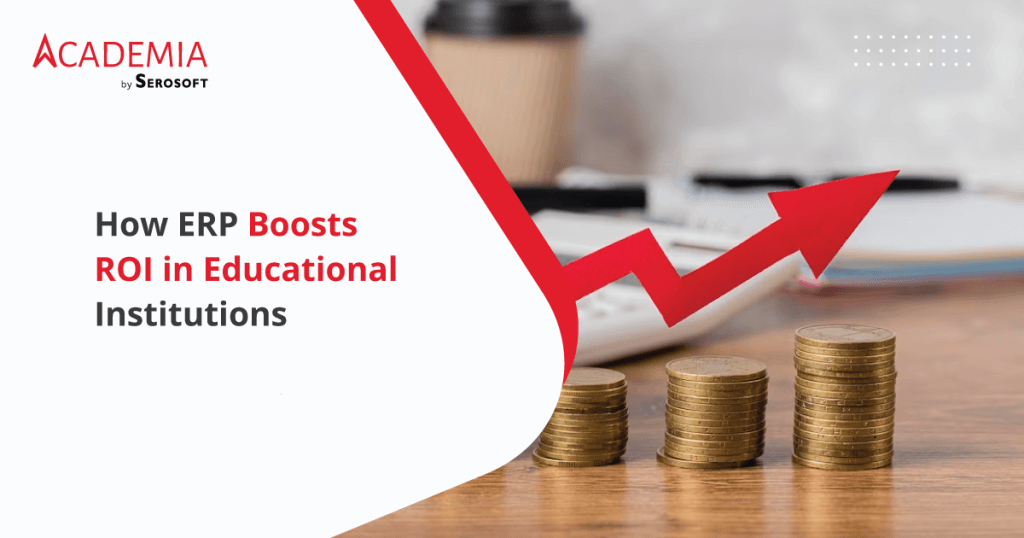 Maximizing ROI in Education: How ERP Boosts ROI in Educational Institutions
Reading Time: 3 minutes " Given a 10 percent chance of 100 percent payoff, you should take that chance every time"- Jeff Bezos, and what if there is a 100 percent chance of 200 percent payoff, one should just rush to grab the opportunity, […]