ERP – Aid To Decision Makers
Reading Time:
3
minutes
Implementation of ERP Software in the educational industry has been revolutionizing institutional management for some time now, thereby helping institutions to improve their operational efficiency, making them convenient and transparent for stakeholders.
The very concept of ERP in education is not new. ERP solutions prove to be a big help with management processes, and they were in full fledged functioning mode in some big educational institutions. Development of technology and prevalent need for computing concepts have led to the increase in demand for ERP solutions in education sector as they make these institutions more efficient in handling processes.
In context of education, this segment has seen some periodic attempts. Recently there has been a great challenge in the higher education sector. Needless to say, as the size of institutions grow, they need a campus management product as a hygiene factor.
Below are the key factors which can cite a great importance:
The effective use of ERP can help in planning an excellent record and cultivating control over the system.
It also proves to be useful for consistently delivering business process efficiency and help in monitoring the policies which help in better customer services and enhanced returns on investment.
Usefulness of ERP can also be sought in reducing labor cost.
It can also be helpful in managing business operations efficiently.
It is thereby useful in moving the sales performances for institutions.
It improves the structuring of financial aspect of an organization.
Educational institutions on an average are using their faculty's time more towards lame operational areas rather than on creative areas. Looking at the operational aspect of higher education today, we find that it has an equivalent stage of complexity that an ordinary enterprise has; general administration, finance, HR and inventory management in addition to services such as canteen, hostels etc, all of which need to be managed properly for the efficient functioning of these institutes.
The resolution of this problem should be dealt by all the stakeholders. The capability of educational institutions to apply superlative processes is held up by the absence of solitary systems. However today's requirement is to build a solution that is purposely built to encompass the distinctive requirement of the educational industry, therefore, conventional ERP may not suffice.
Impacts on different functions of the institutions:
Admissions
Admission has always been a burdensome procedure with a bulky amount of data required to be stored and managed. ERP can considerably make the admission procedure easy and straightforward as:
It will be capable of assisting in creating surroundings that facilitate the spread of information around the admission process, such as course accessible, collection criterion, fees, capture of information about applicants and supporting documents.
It can assist in successively running the system based on university standards/affiliation requirements and frequent tests.
It can also be helpful in automating the admission process and processes around the candidate record through the life-time of the student, making it a single time process.
Administration
The ERP software can help an institute in synchronizing all over-watch activities during student's life-cycle in a single place. It includes association of actions such as:
Maintaining information – attendance, marks, records ,courses and overall performance
It is also beneficial for Scheduling classes, tests, examinations and events
Automatically updating the student database during promotion or course progression.
Automated report card and transcript generation for students.
Financial management
The Campus ERP makes financial management faster and easier, providing precise information accessible at any given time
Fee management of student- automated record of fees and other charges
Payroll management of employee and staff
Purchase, Asset and Inventory management for the institute
HR System
Campus ERP help put an HR system into place:
Class schedules for teachers, duties for staff members can be effectively assigned
Maintaining attendance records of staff
Efficient payroll management for staff members
Serosoft Solutions Pvt. Ltd. is a leading provider of ERP solution targeting education sector with most number of clients in higher education sector, spread across Middle East, Africa and Indian region. An effective ERP solution can make a huge difference and add significant value to an educational institution. Serosoft solutions provide tailor made
Campus Management Software
College ERP software
Education Management Software
Student Information System (SIS)
Student Management Software
University Management Software
School Management Software
Training Management Software
Related posts: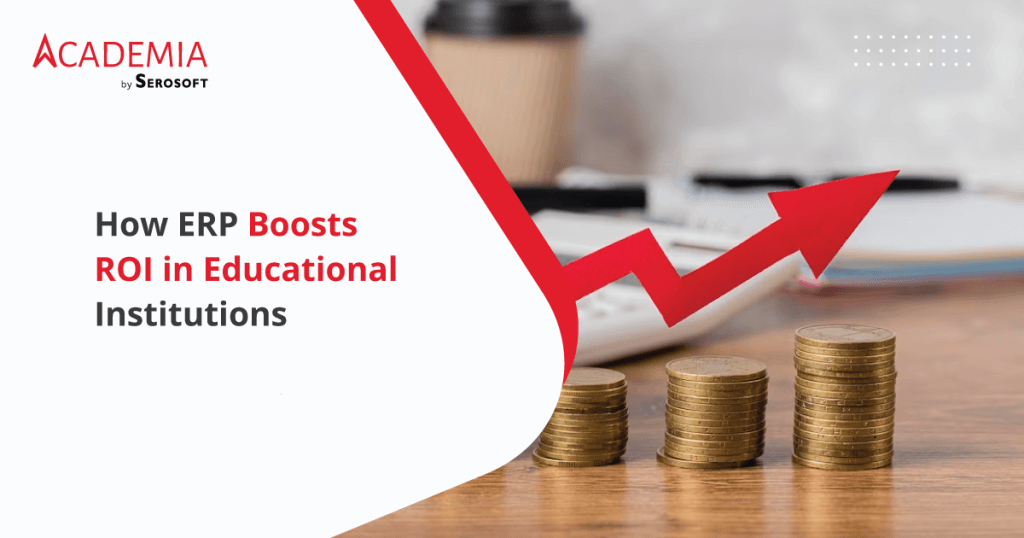 Maximizing ROI in Education: How ERP Boosts ROI in Educational Institutions
Reading Time: 3 minutes " Given a 10 percent chance of 100 percent payoff, you should take that chance every time"- Jeff Bezos, and what if there is a 100 percent chance of 200 percent payoff, one should just rush to grab the opportunity, […]