Experiential Learning: Advantages and Disadvantages
Reading Time:
3
minutes
In today's world, students need resources that can help them learn more effectively and quickly, they need experiential learning that helps them to retain more information when the subject matter pertains to them personally and doing makes learning extremely personal. Experiential learning is one such way that can help institutions to learn more properly and conveniently. Let's discuss this in detail.
What is Experiential Learning?
Experiential learning is the process of learning through experience, especially learning by doing something. This complete process involves both self-initiative and self-assessment as well as a hands-on activity. So having hands-on technology and innovation students and teachers alike can benefit from experiential learning opportunities in the classroom as well as in online learning. 
Let's discuss the advantages and disadvantages of experiential learning.
Advantages of Experiential Learning:
Creates real-world experiences
Nowadays students are advanced, they need more material and resources to study and understand the real world. Experiential learning takes data and concepts and uses them in hands-on tasks, yielding real results. If the students interact and learn using the information, it provides a real experience that helps them to grasp it more easily along with keeping it in mind for a long time.
Open more opportunities for creativity 
In this fast world, problems can occur at any time, but having a tech hand we have multiple solutions for each problem. Experiential learning enables students to engage the creative portions of their brains and uses their creative solutions to problems. This problem-solving and innovative way of learning results in a variety of positive outcomes enriching the student's success as a whole along with bringing overall success for them.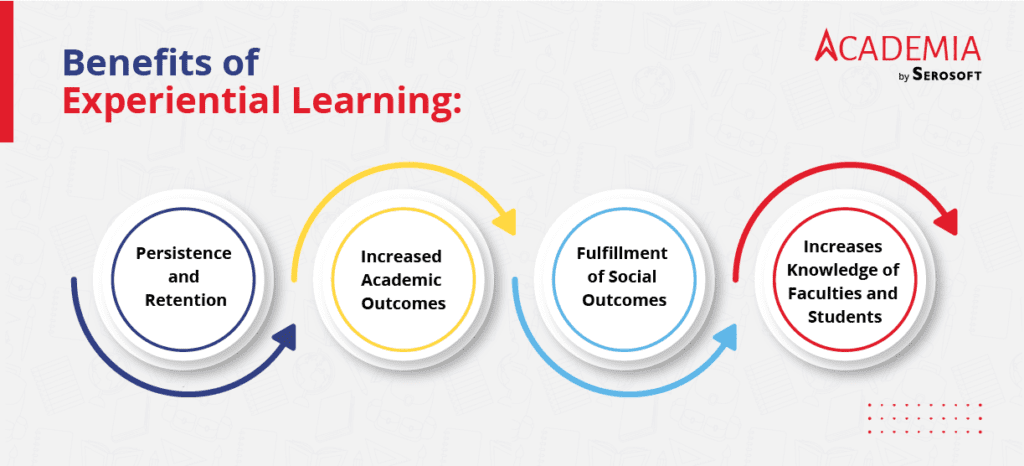 Learning by implementing the same learning point gives a more lasting effect than theoretical learning. Further, experiential learning in higher education also allows students to develop multiple skills such as problem-solving and effective decision-making at the same time. Institutions can choose a Student Information System to provide students with more features that promote self-learning. It helps students to access desired programs and courses, access any study material, complete their projects and assignments on time, and a lot more.
Integration of theory and practice 
Integration and merger of theory and practice open new opportunities for students to learn and apply in the field to understand the real effects and behavior. It also helps in remembering concepts and ideas for a longer period.
Helps in learning mistakes
Experiential learning includes hands of errors, as students work on the given tasks, they may make mistakes and find various approaches to work better each time. While students discard methods that don't work, the act of trying something new and then abandoning it becomes a valuable part of the learning process. Students learn not to fear mistakes, but to benefit from, and remember them.
Guides students toward the future
Experiential learning encourages students to be career-oriented as it involves learning with real-world activities and experiences. Through these activities, students can start to develop and discover these interests, skills, aptitudes, and passions. This method of learning is more often self-discovery than any other form of learning, it brings a more clear path to what they want to pursue after their course completion.
Promotion of communication skills
Through experiential learning, you can bridge the gap in communication as it involves teamwork. Teamwork initiates learning and practicing together promoting communication skills.
Accomplishments are obvious 
Learners find ways to improve their knowledge, in as little as an hour because of the feedback loop created by problem-solving, feedback, and practicing again. Having online tools and technologies, students more often can learn by having new paths and success instead of a simple classroom learning session.
Disadvantages of Experiential Learning:
Requires patience and guidance
Experiential learning requires patience and guidance, students need to try and experiment with various methods that require time and patience, and meanwhile, the results of this remain for a longer time.
Experiential learning is considered a decentralized process as students can access any data and information and can submit assignments and projects on the same online platform so faculties can not access it using the traditional modes.
Conclusion 
Using online tools and technologies, experiential learning encourages students to enhance their knowledge and skills, it allows students to learn using impactful methods and tactics that are impossible to do with traditional classroom studies. So are you thinking of implementing experiential learning activities in your institution?  If so then Academia brings you various tools like a student information system, enterprise resource planning, and various others that can promote experiential learning. Do contact us now for more information and we will feel happy to help you out.
Related posts: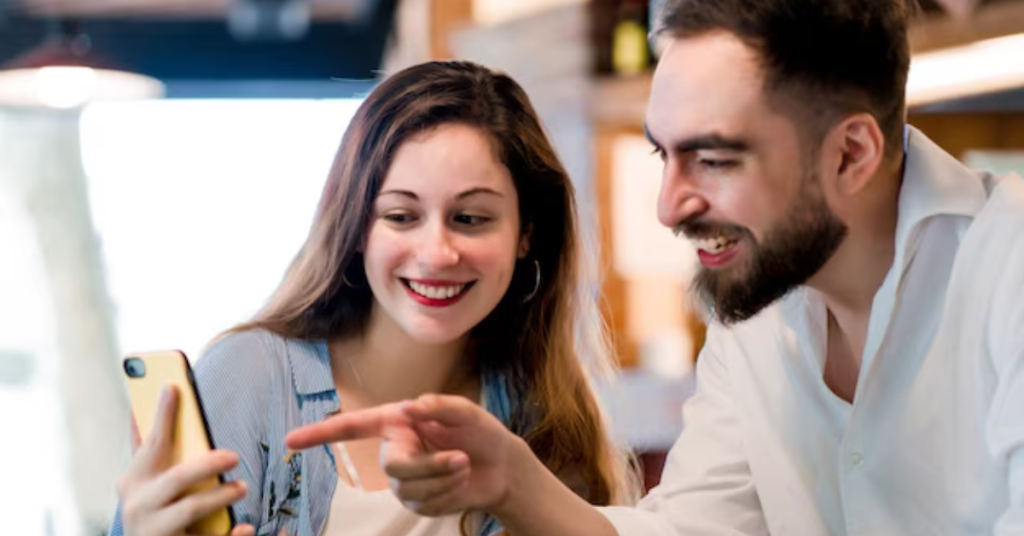 Mobile App for Education Automation – Revolutionizing Education in Students' Native Language Technology!
Reading Time: 2 minutes The integration of technology has become imperative to enhance efficiency and streamline various processes, especially in education as the consumers are youngsters and they spend most of their time with gadgets. Academia ERP has taken a significant stride in this […]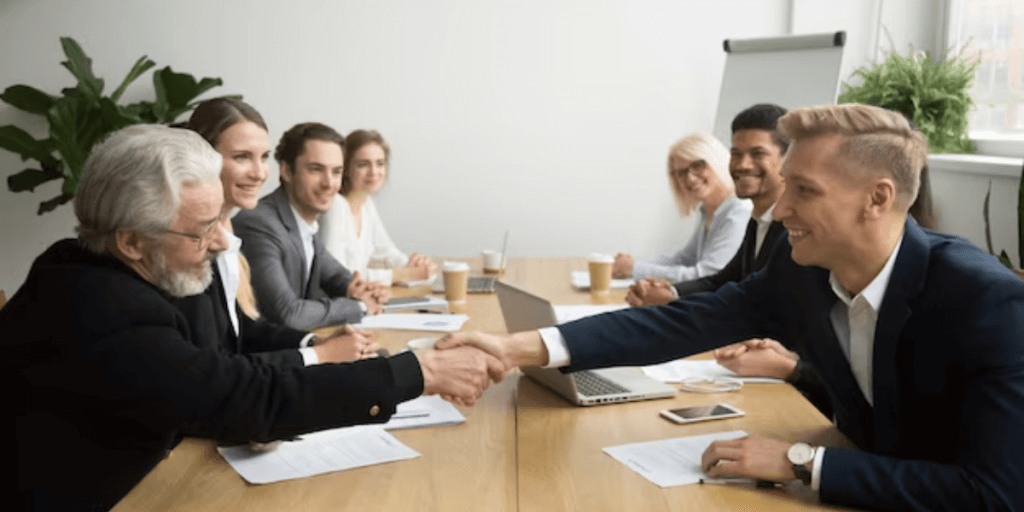 The Irresistible Advantages of Partnering with Academia ERP
Reading Time: 2 minutes The business landscape is full of growth & opportunities in the current scenario, forging strategic partnerships is key to staying competitive and accelerating growth. One of the most promising collaborations that businesses can tap into is with Academia ERP. This […]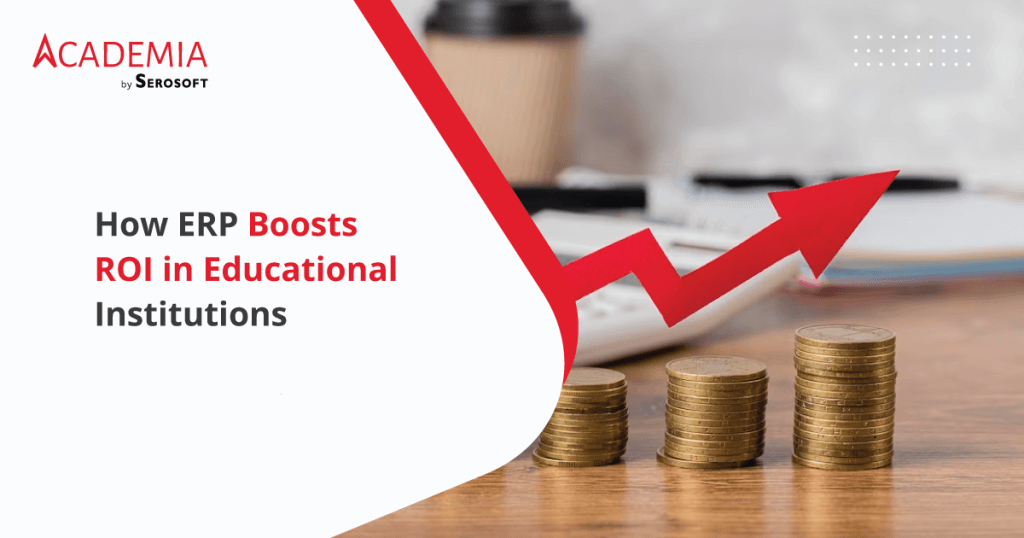 Maximizing ROI in Education: How ERP Boosts ROI in Educational Institutions
Reading Time: 3 minutes "Given a 10 percent chance of 100 percent payoff, you should take that chance every time"- Jeff Bezos, and what if there is a 100 percent chance of 200 percent payoff, one should just rush to grab the opportunity, let's […]