Frequently Asked Questions About Education Management Information System
Reading Time:
4
minutes
As the institutions are seeking technology to opt for digital transformation and automation, various questions occur in mind like which Education Management Information System to choose, how does it work, and what is the process of implementing it, and various others.  So let's discuss some of the important questions in this blog.
Education Management Information System FAQs:
What is an Education Management Information System? This is one of the basic questions that institutions must know about if they are focusing to have a big and positive technological impact. An education management information system software allows the management to have the institution's complete academic and administrative operations bringing digital transformation and automation to the institution.
How can an EMIS manage academic and administrative operations? An EMIS helps educational institutions to manage the complete academic and administrative operations systematically, e.g. if we talk about the admission process EMIS will simplify it by removing the long queue process for generation and submission, making it completely digital and mobile-friendly for students and faculties as well. If it is a fee-related operation, an EMIS can make it systematic by generating fee receipts and all other operations of the institution.
How to Choose an EMIS for my institution and which is the best EMIS in the market right now? There are various EMIS solutions available in the market, but it is important to choose the right one that can help to ease out the institutional tasks along with saving the cost. After proper research and having a demo with the software and its company, you must select an EMIS software after proper research and having a demo with the software and its company. You can also select Academia, it is an award-winning and leading educational ERP software solution that provides robust, scalable, and flexible software that can accomplish all the academic and administrative operations of the institution. Please refer to our blog post on Choosing the Best Management Information System for Your Educational Institution for more details and exact steps.
What are the basic changes that I will need to bring after having an EMIS in my institution?The answer to this question is quite simple, opting for an EMIS (Education Management Information System) like Academia will completely transform your institution digitally. It will provide a new way of operating institutional tasks with automation. It will change the complete day-to-day activities of your institution, reducing the manpower, decreasing the chances of errors, reducing the overall cost, and making everything conceptualized and clear.
Do we need to get training before implementing EMIS in our institute? Yes definitely, before implementing anything in any sector, it is important to understand it properly and the same applies to the education management information system. To have a successful implementation of it in your institute, you must need to have a proper understanding of it. Academia has a team of highly qualified and experienced professionals who will provide you complete knowledge and training about the EMIS software. The team is so polite and humble that they will never leave you in confusion about anything. You can ask them anytime even after the first 3 months or more of implementing the software.
What needs to be involved in the ERP implementation process? An Education Management Information System implementation involves installing the software, moving your data over to the institute's system, configuring your users & the processes, and also training the users on the software. Choosing the right partner for implementing your ERP system is almost as important as selecting the right software like Academia. The right software company will arrange the whole implementation process for your institution making it clear, simple, and systematic.
Is the EMIS software costly? No not at all, the Education Management Information System by Academia is designed in such a way that it manages the complete operations of the institution by reducing the manpower, paper, and time, it also arranges things in a single system, saving data. All the operations are managed properly and directly save cost, making the software cost-effective. Academia provides a cost-effective system that institutions can implement and save a lot of costs and earn revenue.
What are the advantages of using mobile apps for students? Academia SIS is designed to meet the needs of administrators, faculty members, and students as well. The students in the institution get the authority to mark attendance easily along with providing real-time access to parents and faculties to track their child's attendance, with this, they can even pay the fees from anywhere at any time using the mobile app. Generation of hall tickets and mark sheets for the examination is also possible using the mobile app. So to conclude, it is an app for students and faculty as well.
Conclusion
Academia education management information system offers comprehensive and detailed services that improve institutional productivity, workflow efficiency and boost high  ROI by streamlining administrative processes with automation. Hope the above questions helped to resolve your basic queries related to the EMIS, if you have any other questions or queries related to it our team will be glad to resolve them. Do contact us now.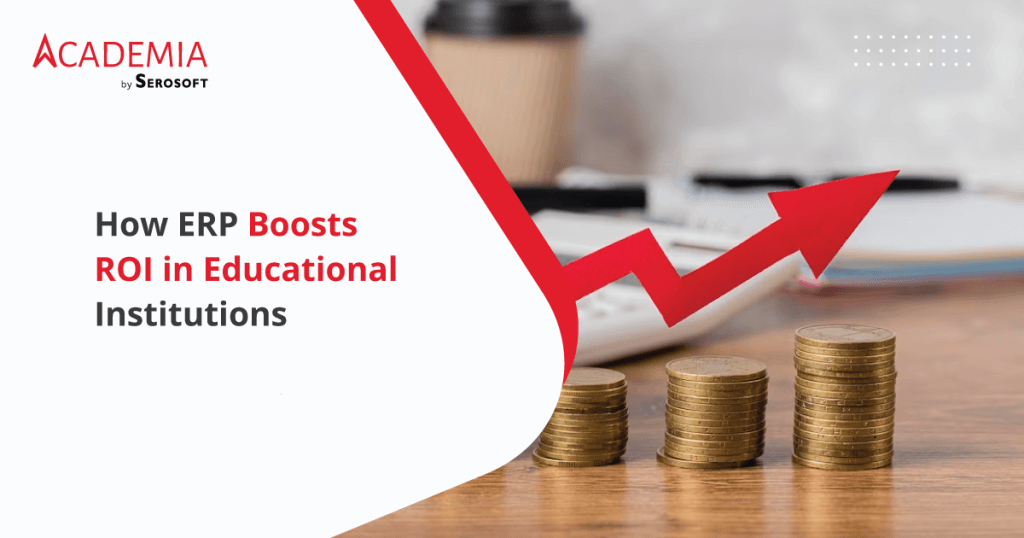 Maximizing ROI in Education: How ERP Boosts ROI in Educational Institutions
Reading Time: 3 minutes " Given a 10 percent chance of 100 percent payoff, you should take that chance every time"- Jeff Bezos, and what if there is a 100 percent chance of 200 percent payoff, one should just rush to grab the opportunity, […]