What institutions need to know before selecting an ERP solution
Before selecting an educational ERP solution (especially a College or School Management Software or Student Information System in India), first and foremost it is very essential to understand that the solution should be the right fit for the desired operation. We all know that there are countless college and school management systems which are available these days in the market, and each one of them specializes in some particular domain, that is why our educationalists should ensure that whatever solution they select, it should cover all of their requirements. For example, if you are a huge multi location educational institution, then you should not go for an ERP product just on the basis of local presence or cost effectiveness, but more importantly it should handle the scale of multi campus/location institution.
Secondly, the education management software (ERP solution) should be according to your academic processes & also fulfill university's or regulatory board's guidelines (compliances). After doing a primary evaluation, one should evaluate for what percentage the solution fits in to the requirement, what customization will be needed further and then to see what percentage is matching against the ERP solution you have chosen. Ensure that the ERP solution has all the modules as per your needs and it is well configured or customized to exactly match your requirements.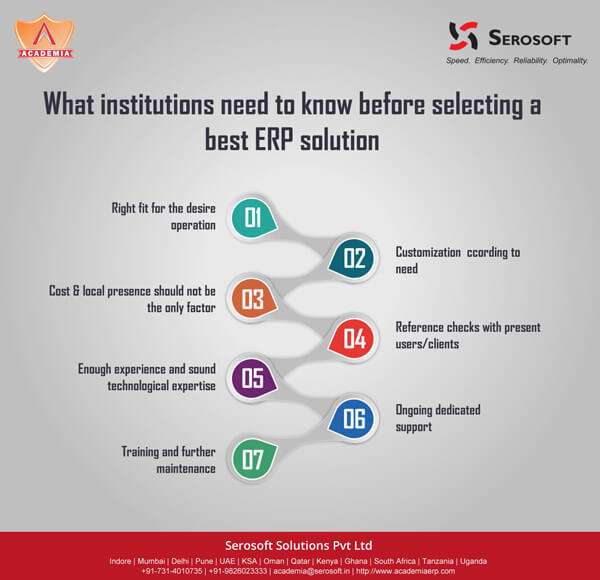 You must also do the reference checks of the ERP solution providers/vendors with their current clientele and also see what the few topmost institutions, where they have already implemented in the past. Since college management ERP implementation involves large investments and a long-term commitment, hence an ongoing dedicated support is much needed. Therefore, it is advisable that the ERP Company that you are going to select must have a enough experience and sound expertise to carry out the entire implementation, training & provide further maintenance successfully. You must also check that their implementation strategy and method is effective and well planned.
Finally, before you decide on any specific solution provider/vendor, you must ensure whether the product is good in terms of value for money and their terms & conditions are acceptable going forward. Moreover, you should not forget to ensure uninterrupted support and maintenance in the price discussion as well.
With this kind of prudent approach which involves a comprehensive research about any ERP solution provider, an institution can be rest assured that they are in safe hands for a longer period going forward unless their requirements change in future.