Must have features in Library Management System for Schools
Reading Time:
2
minutes
Education ERP solutions are known for digitalizing every aspect of an institute, including libraries. As mundane and labor-intensive library management used to be, an advanced library management system can bring efficiency, accuracy, and speed to operations. 
You can consider the Academia ERP solution, an education ERP suite that comes with an in-built library management system for endless functionalities to do in-house operations. We are mentioning some of the most important features of a library management system to boost your understanding of library management system:
Important features in a library management system 
No longer fishing through the bulky registers and searches through rows and columns to find which book is available. A library management system must have a catalog management feature that would do all these tasks in a few clicks and within a matter of seconds. 
Managing the issuance and submission of the books borrowed by teachers and students is time-consuming. Furthermore, regularly a librarian has to track people that have borrowed books and missed the due dates. Then comes penalty collection which becomes another added task for the librarians that can keep them occupied for hours. A feature-rich library management system should digitalize this process end-to-end for faster and more efficient management. 
Rather than numerically coding your books and resources in the library, you can go a step further and use the barcode system. As it is a digital tool, with a quick scan you can track the entire log on issuance/submission, usage, and even the shelf it belongs to. Also, barcoding books would make the book issuance/submission process much faster. 
Students can easily access the ebooks available in the digital library. It would increase resource sharing and knowledge outreach. You can easily eliminate the scenario of book unavailability. Also, based on fee submission, and student records you can control their access to the books. You can anytime remove the access as well, and that too with just one click.  
Manage bills from vendors, and fees from students, collect late fees, define penalties, and a lot of other things easily through fee management. Without a fee management tool, a library management system is incomplete. 
The safety and security of student data are very important. It is not just an add-on but is absolutely necessary as per many compliance organizations. Also, students and parents are very particular about data security nowadays and you must adhere to the international and national security standards of data management. Academia ERP is one such tool that is not just efficient but highly secure and has a GDPR certification. Learn more about the product here. 
>>Bonus<<
These were some basic features that a library management system must have. But you can easily make a few customizations to the education ERP solution to improve the efficiency of the product and make the library management system more feature-rich. Here are a few more features that can bring more efficiency to library management: 
Integration with LMS for quick allocation of books by teachers for assignments

Data analytics and reports 

Theft detection

Serial control 

Mobility solutions such as mobile apps

MIS reports and more. 
Way forward
Library management is seen as one of the most mundane aspects of school management. But you can easily change the situation given the wide availability of trusted education ERP solutions. Using this list, you can check the efficiency of the toolset and make sure you are attaining end-to-end digitalization of the libraries at your school. 
Related posts: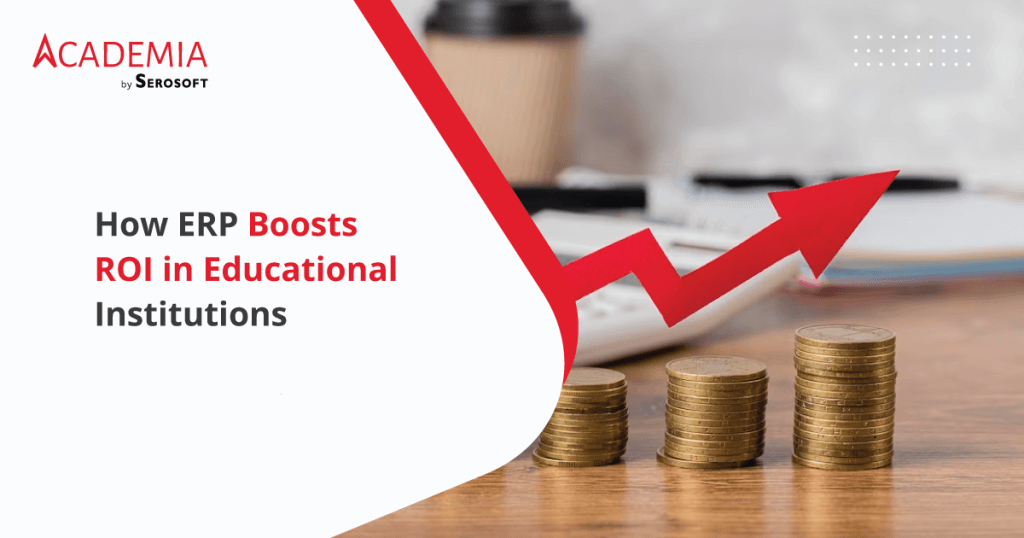 Maximizing ROI in Education: How ERP Boosts ROI in Educational Institutions
Reading Time: 3 minutes " Given a 10 percent chance of 100 percent payoff, you should take that chance every time"- Jeff Bezos, and what if there is a 100 percent chance of 200 percent payoff, one should just rush to grab the opportunity, […]