Why is Automation Important for Educational Institutions
Automation in Education
,
Campus Management Software
,
Cloud ERP
,
College ERP
,
College Management Software
,
Education
,
Education ERP
,
Education ERP software
,
Education Management System
,
Educational ERP
,
ERP Implementation
,
ERP Solution
,
ERP Solutions with Cloud Server
,
Institute ERP
,
Mobile ERP
,
School Management Software
,
Student Information System
,
Student Management Software
,
Student Success
,
Training Management System
,
University Management Software
Reading Time:
3
minutes
Running an institution successfully in today's day and age requires not just a batch of smart educators but also a technologically empowered administration. An assured way to achieve robust and advanced management in a school or college is to automate the processes. An education ERP is precisely that system that enables easy communication and information-sharing across the institution through automation.
The software is an amalgamation of various features right from recording the daily attendance to sending out performance reports to parents. An automated management system takes care of varied tasks with the least manual intervention.
Here's are the key reasons why schools and colleges should consider automation through ERP
Increase in Productivity
Automation improves the productivity of the institute since a lot of mundane and seemingly tedious tasks that have to be conducted on a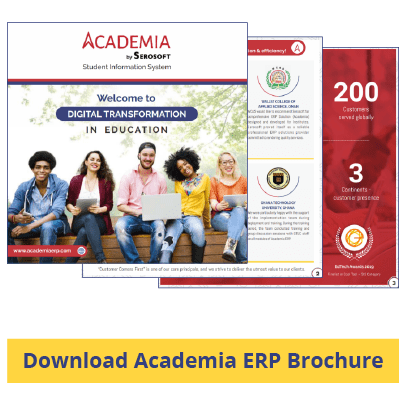 daily basis are smoothly managed by the software. This allows the faculty to focus and dedicate more time to academics and other events of greater importance.
Parent-Teacher Transparency
The cloud-based software also enables remote parent-teacher communication. Parents can check on their children regularly to keep a tab on their activities and performance in school. Automatic SMS and emails on important events being sent to parents lead to transparency and build trust between the parents and the institution.  
Resource Sustainability
Automation to a large extent is a shift from manual to digital. This also means considerable elimination of stationery, paper, registers, and all the paraphilia associated with traditional records and data maintenance. It is, in fact, a subtle but significant step towards saving natural resources.
Workload Efficiency
When an institute is technologically driven, a lot of daily tasks such as student and faculty attendance are handled automatically by the system. It also lets the teachers manage assignments and assign work to students faster and quicker through the portal. This relieves them from a heavy workload and brings more focus and efficiency in teaching.
Data Backup and Security
Besides making data easily accessible, automation also assures data backup, upgrade, and scalability. Since the system is cloud-based, there is no danger of data loss. This is of great advantage to institutes since they have to continuously keep a track of multiple academic and administrative records.
What next
Automation in education is becoming an inevitable reality considering the number of benefits it offers to an institution. The biggest value-addition that automation brings is that it makes teaching more individualized by letting teachers monitor students and their performances. Students also get additional support from their educators. What's more, 360-degree automation covers an entire student life cycle from admissions to course completion. Academia Student Information System, with 20+ modules and a configuration feature, is one of the best education ERPs out there. Check out how it's helping to automate institutes around the globe with a free demo now.