Why is campus modernization important for colleges?
Automation in Education
,
Campus Management Software
,
Cloud ERP
,
College ERP
,
College Management Software
,
Education
,
Education ERP
,
Education ERP software
,
Education Management System
,
Educational ERP
,
ERP Implementation
,
ERP Solution
,
Institute ERP
,
Mobile ERP
,
Student Information System
,
Student Management Software
,
Student Success
,
Training Management System
,
University Management Software
Reading Time:
3
minutes
Let's be honest here. The challenge that you faced before COVID-19 have become more prominent now, and there is a whole new list of challenges that are knocking on your doorsteps to devour a large chunk of your business. 
It is not just you, almost all educational organizations are facing similar problems and there is only one way to save your business – shed the old ways and transform your college. 
Modernization is an impending need of the time, and you should be happy that the market is full of modern solutions such as college/campus management software. These advanced software solutions are highly efficient and feature-rich ERP suites that come with all the functionality you need for your business.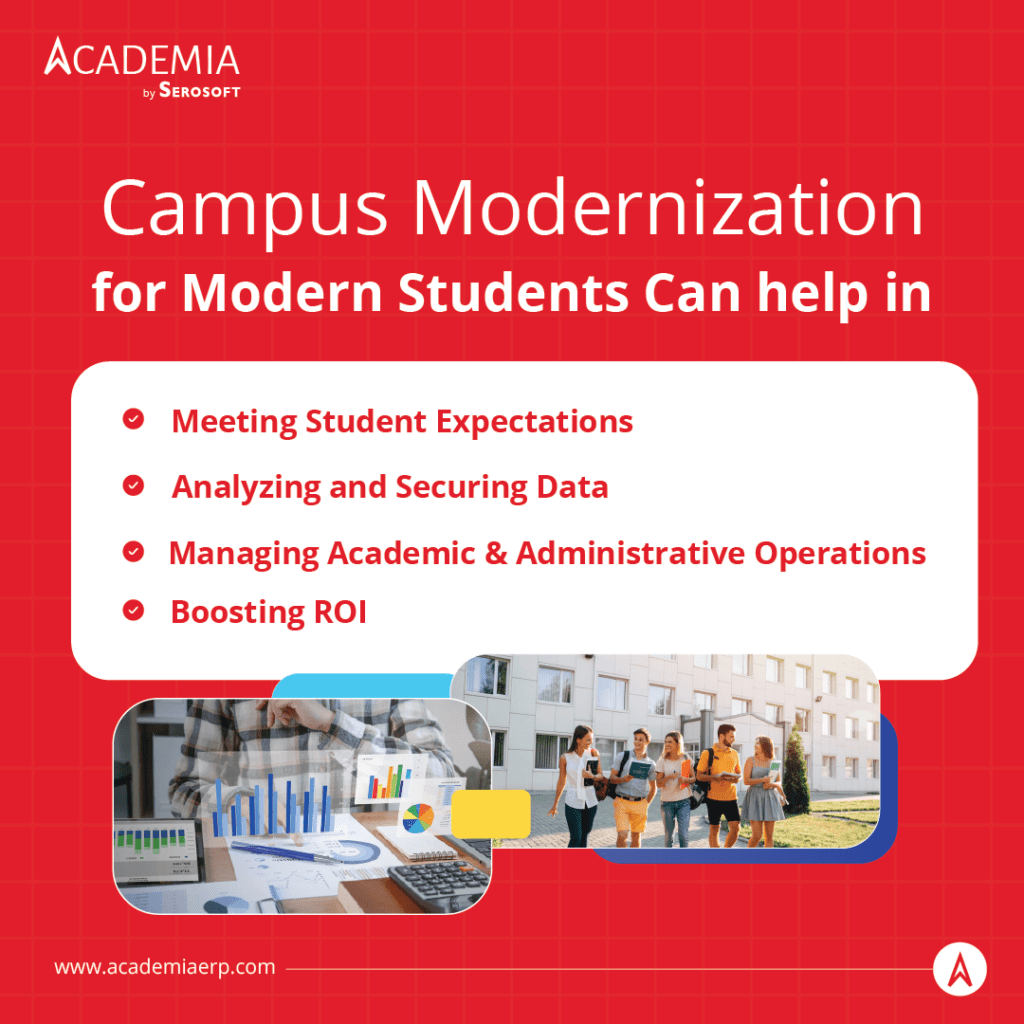 This includes – student discovery, applications, admissions, enrollment, fees, student performance, resource management and so much more. It is a robust and secure solution to optimize the internal and external working of your college while bringing automation to the processes. With a college management system, you can be benefitted in the following ways: 
One of the biggest benefits of choosing a campus management system is the advanced admission module. The module allows you to design your campaign and generate online admission applications from interested prospects. Also, follow-ups and lead management become very easy. You can also digitally evaluate applicants and approve their admission. 
Better teacher performance 
Campus management software offers advanced analytics on student performance, engagement, and activities. This allows you to map the efforts of the faculty with the results and have more scope in improving teacher performance. 
Manual tasks are prone to errors and consume a lot of time. Most of all, in a college there are hundreds of operations that are done on a daily basis and become a burden on your employees. For improved productivity and efficiency, you can choose a college management system and reduce the workload on your employees drastically. With process automation, you would also record unmatched best accuracy in data management and operations. 
Elimination of Paper-based tasks 
Go paperless with college management software and reduce your operational cost by up to 25%. Stationary cost is one of the biggest in the education industry with a digital solution you can completely run the college on a digital platform and reduce the paperwork down to a minimum. 
There are hundreds of transactions happening online through cards, UPI, net banking, and other sources. For colleges, it becomes very difficult to track each transaction and properly file it. With an integrated 3rd party payment gateway, an advanced campus management software would automatically track each transaction and manage the receipts. With add-ons such as timely reminders, real-time data updates, and more, you can completely eliminate data discrepancies and mismanagement from the fees & finance department. 
Showing a digital-first approach in the market makes you a more viable choice for the tech-savvy generation. Since students are becoming more and more familiar with technology tools and apps, they would like to see colleges that show the same futurism and have adopted smart solutions to manage colleges and other operations. 
Better resource management 
Resource management is important more than ever. Across the globe, funding and investments in the education sector have dipped and hence have impacted the quality of education and resource accessibility. To avoid it happening to you, use college management software for improved resource planning, management, and reports & analytics. 
Way forward
These were some of the amazing benefits of modernizing your college with advanced educational technology. If you wish all this to be yours, you can choose Academia ERP solution, an advanced college management platform for all your needs. Drop us a message here.