Get these 3 competitive advantages by using Cloud ERP for Higher-Ed
Reading Time:
3
minutes
Colleges and universities fight each day to compete with the decreasing pool of faculty, staff, and students. It is important to address academic competition that exists between colleges and universities to ensure a secure future for the organization. 
Cloud ERP systems can help institutions digitally transform and evolve to ensure a higher admission rate, student retention rate, improved employee experience, and other relative metrics of success in the education ecosystem. Most of all it allows an organization to address the changing social and economic standards of education to gain a competitive edge. And hence, technology becomes important to discuss and deploy. 
Technology provides a big competitive advantage to institutions. What most organizations fail to understand is, students and staff are technologically-evolved people. Technology is no longer a privilege but is now ingrained in everything a person does on a daily basis. 
Institutions that are still using outdated technology, or manually-intensive processes fail to engage their students and staff, and hence lose out to the competition. In the same context, we are here to discuss the three ways cloud ERP solutions provide you a major advantage in competition. 
3 Competitive Advantages of using Cloud ERP in higher education institutions 
In many cases, the most competitive colleges appear to be those that have more money to spend on marketing and on the facilities at their institutions. Since smaller organizations rely solely on the tuition fee of the students, staying competitive becomes difficult. A cloud ERP can help institutions do both. 
Cloud-based campus management solutions comprise a variety of tools and features that help in better governance of an institute. They comprise admission management, attendance management, examination management, financial management, and other functionalities to improve the governance of the institute. They also automate various operations of the organization to free up the human resource to put to use in the areas where human intervention is most required. 
This blog may interest you:
Cloud ERP vs On-premise ERP Solutions: What is right for your education institute? 
Hire and retain faculty and staff
For colleges and universities, being competitive is as much about enabling student success as it is about promoting internal growth and employee satisfaction. Hiring and retaining good faculty and staff also directly impacts the retention rate of students. 
Unfortunately, the manual work, traditional processes, tangled operations, and tiring routine activities demotivate faculty and staff to stay in the sector, given most qualified candidates are leaving the education sector to seek high-paying jobs in other sectors. 
Using a cloud ERP solution can help an organization retain its staff by offering an engaging experience in its institute. Modern ERP can help institutes save money on operating costs and invest it in the  faculty. Secondly, technology and cloud ERP solutions support academic and administrative processes in an institute to improve work experience in the organization. 
Recruit and retain best-fit students
Student retention rate is an important factor in evaluative criteria used to rank colleges, and universities locally and nationally. And since students consider ranks when applying at any institute, you need to strategize to draw students to campus and retain them. 
Modern cloud ERP solutions help colleges to recruit and retain students that are academically and culturally more aligned with the organization, hence making retention easier. Also, admission management, examination, student performance management, and analysis are some of the effective ways to improve the student experience at your institute while ensuring higher retention rates.
Conclusion:
Competition between colleges and universities never ceases to exist. But if you are willing to upgrade your institute to have a greater competitive advantage consider digital transformation through cloud ERP for colleges and universities. The handy tool end-to-end automates the processes in the institute and allows easier management and monitoring of the institute. It positively affects the working and experience of all stakeholders to ensure a higher retention rate. Reduced operational cost, efforts, and time are some other benefits of choosing a college ERP solution.
Related posts: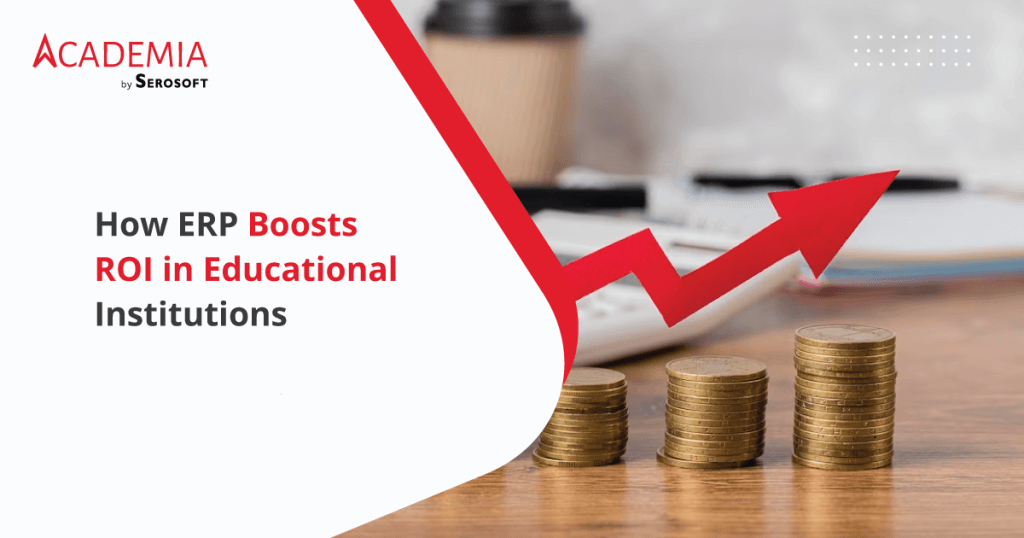 Maximizing ROI in Education: How ERP Boosts ROI in Educational Institutions
Reading Time: 3 minutes " Given a 10 percent chance of 100 percent payoff, you should take that chance every time"- Jeff Bezos, and what if there is a 100 percent chance of 200 percent payoff, one should just rush to grab the opportunity, […]