Achieving IT Governance through a University Information System
Reading Time:
3
minutes
In recent times, there has been a consistent focus on how IT supports good governance in HEI (Higher Education Institutions). With technology rapidly changing and competition rising, HEI's good IT governance is increasingly being achieved with a capable University Information System.
For HEI (Higher Education Institutions) where technological infrastructure consists of different kinds of applications and platforms, academic systems, cloud applications, and diverse technologies, IT is an essential factor that supports the growth and sustainability of the institution. All these different technologies used to support the research, teaching, and administrative processes need a very efficient IT governance framework. 
An IT governance framework is made of structures, processes, and relational mechanisms with each mechanism having a specific function and when implemented, it should positively impact the institute. At the same time, the process to identify the right mechanism for a specific context is a tough and complex one. 
Today, IT plays a critical role in every aspect of a university from researching and teaching to administration. IT is helping educational institutions achieve their goals and objectives. Also, communications and IT provide increasing opportunities to boost an institution's effectiveness and efficiency. Hence, investment in IT, and how, when, and where it will be made, is an important part of an institute's strategy to grow.
IT governance covers everything related to technology, including:
All technology, applications, and services used by the university

IT resource management 

IT project management 

Information security 

IT policies and standards 

IT risk management 
Today, implementing an IT governance system at universities has become a necessity and it helps to-
Define who is responsible for IT strategic planning and decision-making

Identify how to leverage technologies for greater innovation and collaboration among students, faculty, and staff

Create a strong IT strategy and line it up with the university's global strategy

Save costs in IT investment because of project management and prioritisation of investments

Reduce IT risks with adequate management

With the right indicators have the evaluation and monitoring of IT-based processes and services

Accomplish regulatory compliance, implement international standards and obtain quality certification relating to IT governance more easily

Achieve a return value on investments made, with cost savings, global internal organisation improvement, more user satisfaction, improved corporate image, and outreach
A university management system is specifically designed for every stakeholder from Chancellors, Directors, Principals to administrators and staff to automate complex procedures and manage day-to-day operations. With a good university management information system, there is a lot of benefit for students and the university, including better academic delivery, work efficiency, and improved student achievement. With the education landscape going through steady changes, universities must have an innovative university information system. 
There are 3 reasons why a University Information System is crucial for a university to achieve IT Governance goals: 
The system ensures that IT governance becomes an ongoing process, which is critical to the success of the initiative.

It integrates IT systems with business objectives.

It changes the perspective of the IT department as a service provider and elevates it to enable transformation at a human, social and intellectual level.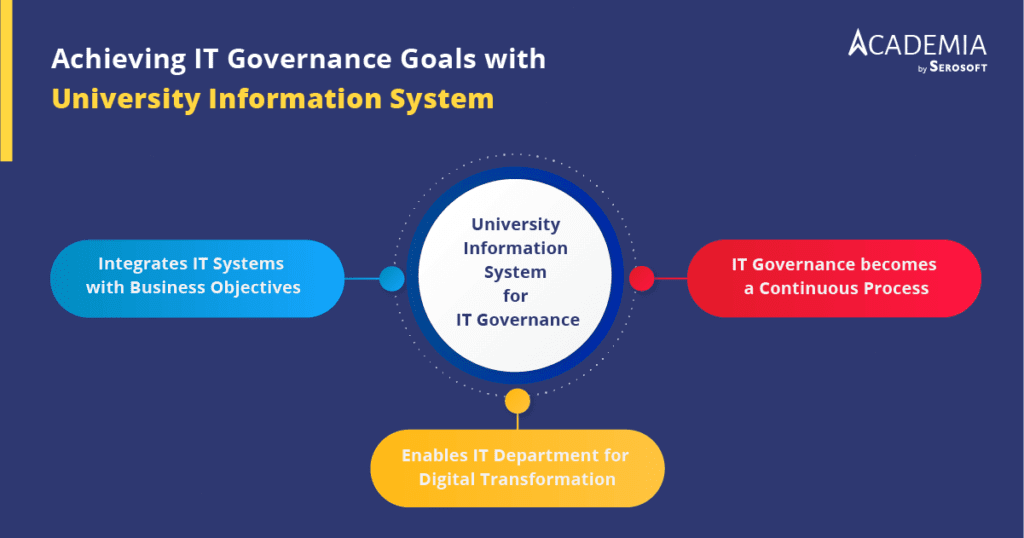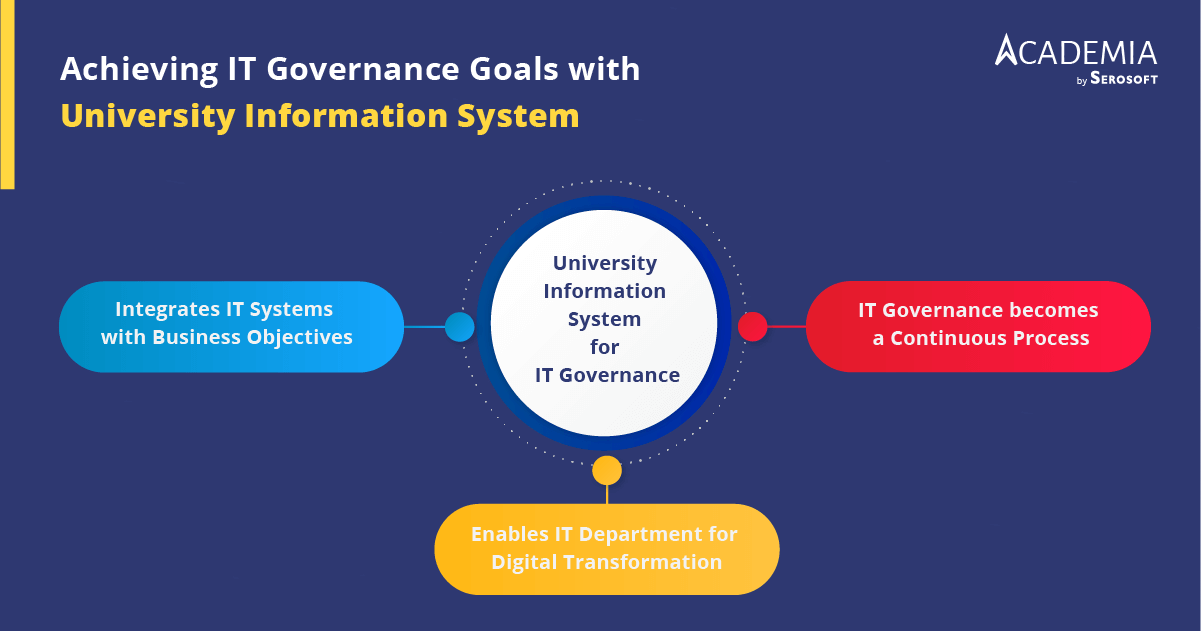 Some of the key advantages of deploying a university management information system are:
Seamless management of all in-house activities

Offline & online examination management

Onsite, online, offline service support anytime

Role-based login access for data security

Monitoring & accurate information analysis

User-friendly solution for ease of navigation 

Reduction of manpower and cost savings

Centralised online admissions

Improved transparency in result processing or procurement. 

Better efficiency with faster processes and central data repository

Better accountability

Easy to assemble, process, and record information quickly

Integrates all stakeholders for an improved level of comfort
Academia ERP offers a robust and comprehensive University Information System customised to provide automation solutions to digitise administrative operations. With decades of experience, Academia has been successfully converting manual processes into digital ones.
Academia is a practical cloud-based university management information software that can be accessed across campuses and academic and non-academic departments which are integrated with everyday activities. Academia's transparent and user-friendly ERP helps to connect students and teachers and eliminates the mismanagement of data. The data is secured with security tools and encrypted passwords and there is the quick automatic backup of data that is easily retrievable.
Academia also offers 27×7 offline and online support to fix any technical bugs that may arise, and help in the smooth functioning of the ERP.
To learn more about Academia's empowering University Information System, please get in touch for a free demo.