What is the impact of remote schooling on software shift?
Reading Time:
3
minutes
COVID-19 was successful at putting us all into a box of four concrete walls. But the human spirit has always triumphed over every challenge and this time technology has a big role in it. Education technologies during COVID-19 were a huge success, but now that the world has reopened we are not going back to the traditional ways of operations. Efficiency, transparency, and effectiveness of the education technologies have opened the long-shut eyes of the education authorities and now that they have truly tasted it, there is no going back but moving forward.
Here we are introducing you to the impact of remote learning and how it has triggered a software shift.
What is changing?
Not to miss out on the perspective, it is important to highlight that the education industry has become more open-minded about technology now. Prior to the pandemic we hardly say the shift towards education technologies and changes in traditional operating methods. Although the redundant system was inefficient and did not meet the primary goals of the education sector in most countries such as reduced cost of education, accessibility to knowledge, improved knowledge retention, and more, it continued. This is surprising as even developing countries and major industries were highly focused on digital transformation even before the pandemic.
Although delayed, the shift towards technology is now allowing institutes to perform better even in a harsh economic climate such as now. Also, teachers are now more focused on providing a personalized learning experience to the students and ensuring higher knowledge retention. The technology of today is transforming:
How schools managed their operations?
How communication becomes more efficient between various stakeholders?
How information reaches students?
Learning Tools
The market is bustling with efficient learning tools that are allowing students to boost learning even in an online learning environment. Also, technologies such as AI, ML and interactive whiteboards, etc. are providing richer learning experiences to the students, especially if they don't comply with the traditional reading and writing learning process.
Taking communication between teachers and students to next level. Zoom alone had nearly 200 million users per day in 2020, which is more than 190 million that was reported in 2019. From an educator's perspective, interoperable software such as Education ERP has improved their work efficiency by up to 60% through seamless integration with online learning tools.
Lastly, there are collaboration tools that make online education much more effective and allow more seamless interaction in online classrooms. It is allowing large group communication and collaboration between teachers and students, and even teachers, students, and parents.
School Management Software / School ERP
School Management Software / School ERP (Link: https://www.academiaerp.com/school-management-system/) is an advanced education ERP solution that automates critical business operations in an education institute. The smart school software runs on modern technology and architecture that increases scalability and flexibility. It also serves as a shared database for all academic, non-academic, and financial operations where it provides features to manage finance and payment management, Student Information Systems, student lifecycle management, human resource, and workflow management, resource management and implementation, and more.
Furthermore, the reduced cost of cloud-based solutions has made cloud-based education ERP a popular choice for education institutes. The efficient application is deployed over the internet and provides a different portal for users to perform tasks that are important to their work and interest. Also, there is role-based access in the system core admin portal where an administrator can define users and roles to the employees and ensures secure working over a digital platform.
Another crucial highlight of development in the education ERP sector is automation. As technology advances, more and more education ERP solutions are popping in the market offering process automation in tedious education operations such as finance, administration, data management, timetable creation, attendance, and more.
Fees and Bill Payments
Better internet connectivity and the availability of smartphones have allowed institutes to work more transparently and efficiently. Automated billing and finance solution solutions do not require a person to perform time-taking manual processes such as fee collection, receipt management, late fee collection, and creating no-dues for several tasks.
Also, payments done through online sources such as UPI, credit/debit cards, net banking, e-wallet, etc. are easier to track than manual payment collection. Also, online payment processing brings more transparency to the system benefiting parents and students both.
Way Forward
Education technologies have a booming market. And there are solutions specific to the needs of education institutes to meet their newfound challenges. If you are looking for a robust education ERP solution, consider Academia ERP. It is an advanced education ERP suite that comes with features to automate your operations and bring more efficiency into the system.
Related Posts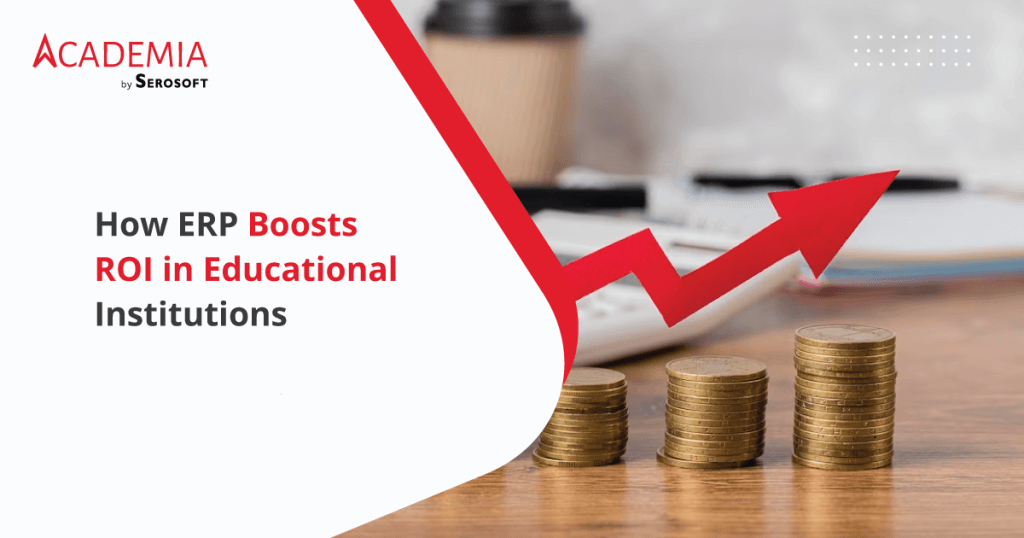 Maximizing ROI in Education: How ERP Boosts ROI in Educational Institutions
Reading Time: 3 minutes " Given a 10 percent chance of 100 percent payoff, you should take that chance every time"- Jeff Bezos, and what if there is a 100 percent chance of 200 percent payoff, one should just rush to grab the opportunity, […]